Podcast: Play in new window | Download
Subscribe: Apple Podcasts | RSS
We talk with legal scholar Lawrence Douglas about his book, Will He Go? Trump and the Looming Election Meltdown in 2020.
Then, how can we make sure that kids grow up understanding their right to freedom of speech? We talk with free speech attorney Jessica Bohrer about the children's book she cowrote with her father Sandy Bohrer, also a free speech attorney, Your Voice is Your Superpower: A Beginner's Guide to Freedom of Speech (and the First Amendment).
Writers Voice—in-depth conversation with writers of all genres, on the air since 2004. Find us on Facebook at Writers Voice with Francesca Rheannon or Twitter @WritersVoice. And if you are listening to our podcast, give us some love on iTunes or whatever podcast app you use.
Lawrence Douglas
The upcoming election could very well see the death of American democracy. Donald Trump has essentially told the nation he will never accept electoral defeat.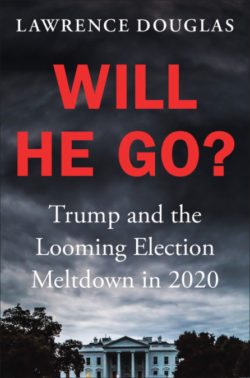 It doesn't require a strong imagination to get a sense of the mayhem he will unleash if he loses a closely contested election. With millions of diehard supporters believing that their Dear Leader has been toppled by malignant forces of the Deep State, Trump could remain a force of constitutional chaos for years to come.
Lawrence Douglas' book Will He Go? explores how the constitutional crisis could play out in, for example, the case of a delayed vote count over absentee ballots, or Republican legislatures interfering with the electoral college, or with hacking of the vote by nefarious players, here and abroad. Douglas says a landslide for Biden is our best hope to stop an authoritarian takeover.
Lawrence Douglas is professor of Law, Jurisprudence and Social Thought at Amherst College. In addition to Will He Go?, he's the author of The Right Wrong Man: John Demjanjuk and the Last Great Nazi War Crimes Trial.
Read an excerpt from Will He Go?

Jessica Bohrer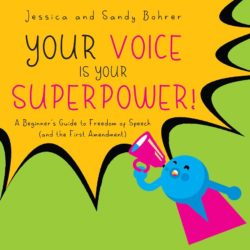 You can't protect democracy, if you don't know what it means. Civics used to be taught in elementary school, teaching students about the Constitution, the balance of power between the three branches of government and the First Amendment and the right of free speech. But how many kids get civics in school today or learn about free speech? Probably too few.
Jessica Bohrer and her dad, both free speech lawyers, set out to right that wrong. Their book Your Voice is Your Superpower! A Beginner's Guide to Freedom of Speech and the First Amendment is pitched to grade school kids. In a series of charming illustrations and text, it shows kids why our voice matters, how we can use it and also why we must protect everyone's right to free speech.
Jessica Bohrer is Vice President and Editorial Counsel in the newsroom at Forbes. She serves on the Leadership Council of the Committee to Protect Journalists.
Read Jessica Bohrer on Teaching Children About Freedom of Speech