Podcast: Play in new window | Download
Subscribe: Apple Podcasts | RSS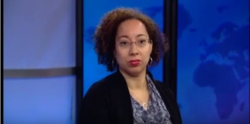 Rutgers University historian Donna Murch speaks with Francesca about the impact of the 1994 crime bill passed by President Clinton and its devastating impact on communities of color.
Murch's essay, "The Clintons' War on Drugs: When Black Lives Didn't Matter" appeared in the New Republic and is re-printed in False Choices: The Faux Feminism of Hillary Rodham Clinton, a collection of essays by left feminists and edited by Liza Featherstone. 
Murch's essay explores the origins of Democratic Party's turn to the right, exemplified by the Clintons both in Arkansas and in the White House, and the policy of mass incarceration they promoted.
Donna Murch spoke with Francesca in a wide-ranging interview that covered not only mass incarceration and its impact on communities of color, but also why older black voters are supporting Hillary Clinton in large numbers — and why younger black voters are going overwhelmingly for Senator Bernie Sanders.