Podcast: Play in new window | Download
Subscribe: Apple Podcasts | RSS
We talk with novelist Robert Harris about the last book in his trilogy about the Roman statesman Cicero, Dictator. Then, economist James Galbraith tells us why he disagrees with the attacks on Gerald Friedman's analysis of Senator Bernie Sanders' economic plan. And finally, we pay tribute to Dr.Quentin Young, who passed away this week, with a clip from an interview Francesca did with him in 2009.
Robert Harris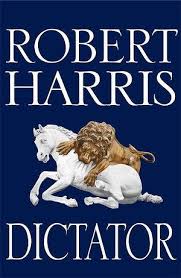 Robert Harris' acclaimed historical novels are written with a keen eye toward the lessons we can derive from history for our own time. In 2014, he came onto Writer's Voice to discuss his book about the Dreyfuss case, An Officer And A Spy.
That book was an interlude in Harris' twelve year project to write a trilogy about the life of the great Roman statesman and orator Cicero. The first two books in the trilogy are Imperium and Conspirata. In late 2015, Harris came out with the final volume, Dictator. The trilogy has been called "the finest fictional treatment of Ancient Rome in the English language."
Dictator takes place during a time of great civil unrest, when the Roman republic was giving way to the rule of the emperors. Cicero was a constitutionalist who was deeply committed to democracy. He was a former elected consul or leader of Rome.
But in his last years, his political ambitions were stymied by the growing power of Julius Caesar, who became Rome's first emperor. It is this conflict between democracy and dictatorship that drives the action in Harris' novel, from Cicero's first fall from grace to his execution in 43 BCE.
Roman democracy was only for free male citizens of Rome — it excluded slaves, women and foreigners. But Dictator is told through the eyes of a slave, Cicero's long serving assistant, Tiro, who, as a historical person, actually did write a biography of Cicero (now lost.) As both outsider and insider, the character Tiro allows the reader to gain a fuller perspective of his master and his society.
Robert Harris is the author of ten novels, as well as screenplays, short stories and nonfiction.
James K. Galbraith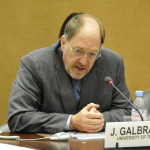 Several weeks ago,  Writers Voice talked with economist Gerald Friedman about his analysis of Bernie Sanders' economic plan. That was before the New York Times published a denunciation of Friedman's analysis, claiming that seven "left-leaning economists" questioned its validity. (It turns out that none of the economists are particularly left-leaning and one, Ezra Klein, isn't even an economist.) Four of the economists were former chairs of the Council of Economic Advisors.
The backlash was swift from other prominent economists, with Dean Baker, Thomas Piketty and our guest this week, James K. Galbraith. Galbraith was at one time the Executive Director of the Joint Economic Committee, the parallel congressional group to the Council of Economic Advisors. He wrote an open letter to the four former chairs in a scathing rebuttal of their criticisms, which he followed up with a post in the Boston Globe, "The Kerfuffle over Sanders' Economic Plan."
Find all the "kerfuffle" links here
James K. Galbraith is an expert in income inequality, and a professor at the Lyndon B. Johnson School of Public Affairs and at the Department of Government, University of Texas at Austin. His most recent book is  Inequality: What Everyone Needs to Know.
Dr. Quentin Young
Dr. Quentin Young passed away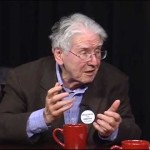 on March 7 at the age of 92. He was a crusader for single payer and for the health of workers and the poor. His patients included Martin Luther King and Studs Terkel and Barack Obama was a patient in his practice and a personal friend.
Francesca interviewed Young in 2009 for Sea Change Radio at the time Obamacare was being developed.  They spoke about single payer and why Young thought it was the only sensible design for providing universal health care. We play a short clip from that interview, but you can hear the whole interview here.