Podcast: Play in new window | Download
Subscribe: Apple Podcasts | RSS
Bernie Sanders spokesman Jonathan Tasini tells us about his book, The Essential Bernie Sanders. Then, with all the controversy over Sanders' single payer health care plan, we talk with the economist whose work that plan is based on, Gerald Friedman. Finally, in a lighter vein, we talk with blockbuster mystery writer Sue Grafton about her latest — and reportedly the last — in her Kinsey Milhone series, X. 
Jonathan Tasini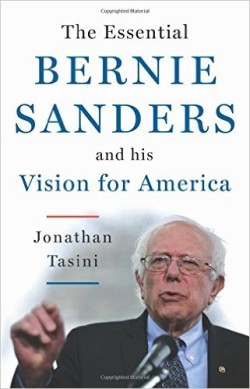 When Bernie Sanders began his presidential campaign, few in the political or media establishment took him seriously.
But as this show is being produced, Sanders has opened up a 60-33 lead against Clinton in the latest New Hampshire poll and is in a statistical dead heat in Iowa.
And although Clinton still has a commanding lead in national polls, that lead is narrowing. The Sanders campaign says that as more Americans find out what the senator stands for, his support will only go up.
So what does Bernie stand for? Sanders surrogate Jonathan Tasini has come out with a slim volume that answers that question. Based largely on the Senator's own words, it's called The Essential Bernie Sanders: Sanders and His Vision for America.
Jonathan Tasini is a strategist, organizer, activist, commentator and writer, primarily focusing his energies on the topics of work, labor and the economy. He was the president of the National Writers Union from 1990 to 2003. His blog, Working Life, focuses on labor and the economy.
Gerald Friedman
The Democratic contest between Hillary Clinton and Bernie Sanders for the presidential nomination has been heating up lately. With Sanders moving up in the polls, the Clinton campaign has gone on the attack, especially against Sanders single payer health care plan, which the Senator calls Medicare For All.
The attacks were kicked off by Chelsea Clinton when she claimed that the Sanders plan would do away with Medicare, Medicaid and Obamacare. Chelsea was roundly criticized for not mentioning that Sanders would roll all those programs into single payer — and more. But then Hillary doubled down on the attack, claiming that single payer is not practical and some pundits, including economist Paul Krugman, chimed in to support her.
Gerald Friedman is Professor of Economics at the University of Massachusetts-Amherst. He has carried out economic impact studies of single payer plans in five states and also nationally. He testified in Congress about his work on single payer economic impacts in 2013.
Friedman's work forms the basis for Sanders' Medicare For All plan. He has written rebuttals to the attacks by Chelsea Clinton and The Wall Street Journal on the Sanders single payer plan. He has contributed to both the Sanders and the Clinton campaigns.
Sue Grafton
Bestselling author Sue Grafton's claim to the mystery hall of fame is her blockbuster series about the intrepid private investigator Kinsey Milhone. The first, A is for Alibi, came out in 1983 and now, more than 30 years later, she has come out with what she says will be the last in the series, X. 
X features three plots that eventually weave together for thrilling denoument: one follows a remorseless serial killer, another a pair of elderly con artists and the third a vengeful spouse. Through it all Kinsey Millhone plies her crack investigative skills — with the help of her near-nongenarian neighbor Henry — to solve the crimes before anyone else gets hurt, including her.
We spoke with Sue Grafton about her long career as a writer of crime fiction and about X.