Podcast: Play in new window | Download
Subscribe: Apple Podcasts | RSS
Most Americans have just been getting to know Bernie Sanders in the last few months, as his presidential bid has gathered a full head of steam. But journalist and author Greg Guma has known him since the 1980's.  He talks about Sanders' previous campaigns and and how Bernie Sanders' current insurgent run has matured him as a candidate.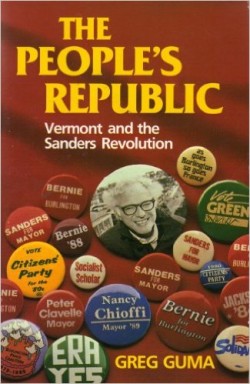 A journalist, novelist and political writer, Greg Guma has worked with and written extensively about Bernie Sanders. His 1989 book, The People's Republic: Vermont and the Sanders Revolution was the first comprehensive analysis of Sanders' years as Mayor of Vermont's capital city, Burlington.
In 1988, he wrote about Sanders' failed campaign against Madeleine Kunin for the Vermont governorship. In 2013 Guma wrote perhaps one of the first articles in the press about Sanders' presidential hopes, "One-Man Show: What Happens If Senator Bernie Sanders Runs for The Presidency?"
We caught up with him on Skype to ask him for his thoughts on Sanders' presidential run, now almost a year into it and more than two years after first writing about it. (This is the loosely edited extended interview. A shorter version will be aired on this week's episode of Writer's Voice.)
Greg Guma is a journalist, novelist and the author of The People's Republic: Vermont and the Sanders Revolution.
Greg Guma's links about Bernie Sanders
On The People's Republic (book):
includes links to recent interviews on Sanders campaign
The 1981 Race:
Over the years: Personal Recollections