Podcast: Play in new window | Download
Subscribe: Apple Podcasts | RSS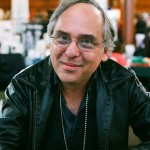 Host Francesca Rheannon talks with comix master Art Spiegelman. When Spiegelman's [amazon-product text="Maus I: A Survivors Tale: My Father Bleeds History" type="text"]0394747232[/amazon-product] was published in 1986, (followed by [amazon-product text="Maus II: A Survivors Tale: And Here My Troubles Began" type="text"]0679729771[/amazon-product] in 1991), it exploded notions about the limited role of comix as art and literature.
[amazon-product align="right"]0375423958[/amazon-product]
Winning a special Pulitzer Prize in 1992–the only comic book ever to do so–Maus is a memoir in graphic form of Spiegelman's father's experiences in Auschwitz and the impact that had on the artist's own childhood growing up in New York City. His mother was also a survivor of the Nazi concentration camps. In 1968, she committed suicide, soon after Spiegelman himself was released from a mental hospital after suffering a nervous breakdown.
Maus was prefigured in an earlier work, Prisoner on the Hell Planet and in 1978 Spiegelman included that and other works in a collection of his underground comix called [amazon-product text="Breakdowns: Portrait of the Artist as a Young %@&*!" type="text"]0375423958[/amazon-product]. Innovative and drawn in a variety of styles in large format–the book sank like a stone. But now Spiegelman has "re-birthed it", as he told me, with a new 20 page introduction and an afterword. We talk to him about BREAKDOWNS and breaking conventions in the comix.
[amazon-product align="left"]061525781X[/amazon-product]
Also, investigative journalist Greg Palast talks about the new comic book he produced with Robert F. Kennedy, Jr., [amazon-product text="STEAL BACK YOUR VOTE!" type="text"]061525781X[/amazon-product]. With illustrations by Ted Rall and other artists, the book is about the threat of massive voter suppression in the upcoming election and how to counter it. [Note: the audio to this segment has been removed.]