Podcast: Play in new window | Download
Subscribe: Apple Podcasts | RSS
A profoundly humanist novel tackles the tragedies of life:
As a physician I'm perhaps more aware than most people of how perilous our everyday lives are and how quickly they could transition to something quite disastrous. And I think in America especially we exist in a sort of denial of our mortality…As a result we are very shocked when any hint of tragedy comes our way. — Abraham Verghese
We spend the hour speaking with Abraham Verghese, first about his latest novel, The Covenant of Water. Then, we look back to our 2009 conversation with him about his novel Cutting for Stone.
Writers Voice— in depth conversation with writers of all genres, on the air since 2004.
Like us on Facebook at Writers Voice with FrancescaTags Rheannon, on Instagram @WritersVoicePodcast or find us on Twitter @WritersVoice.
Love Writer's Voice? Please rate us on your podcast app. It really helps to get the word out about our show.
Tags: Abraham Verghese, Francesca Rheannon, Writers Voice, fiction, India, Kerala, podcast, book recommendations, author interview, book podcast, book show
A Peculiar Affliction
The Covenant of Water is Abraham Verghese's acclaimed new novel, fourteen years after his breakout book,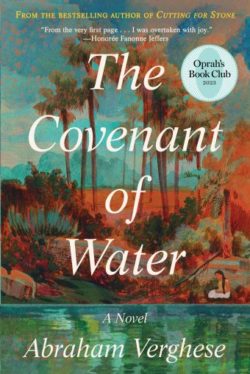 Cutting for Stone.
Set in Kerala, India, and spanning the years 1900 to 1977, it revolves around a family plagued by a peculiar affliction—drowning deaths occurring in every generation, while living in a coastal community where water is a dominant feature of the landscape.
A Tale of Bygone India
As part of a Christian community tracing back to the apostles, the matriarch, Big Ammachi, witnesses unimaginable changes during her extraordinary life.
Verghese showcases his remarkable storytelling with scenes of medical ingenuity, moments of humor, and deeply moving characters.
This beautifully written tale of a bygone India celebrates the resilience of human spirit in the face of adversity and the connections that make that resilience possible.
About The Author
Abraham Verghese is a best-selling author and a physician. He received the Heinz Award in 2014 and was awarded the National Humanities Medal, presented by President Barack Obama, in 2015. The Covenant of Water is an Oprah's Book Club selection.
Cutting For Stone
The first time we talked with Abraham Verghese was in 2009 about his book Cutting for Stone. Like The Covenant of Water, it features the practice of medicine as a major theme of the novel.
In Memoriam for Daniel Ellsberg
Daniel Ellsberg died June 16. He was an exemplar of courage and integrity. A patriot of the highest order, he was a profound source of good for humankind. We spoke with Ellsberg in 2018. Listen here.