Podcast: Play in new window | Download
Subscribe: Apple Podcasts | RSS
Pentagon Papers whistleblower Daniel Ellsberg talks about his shocking new book, The Doomsday Machine: Confessions of a Nuclear War Planner. Then we talk with peace and security analyst Michael Klare about his recent article in the Nation, "Trump's Nuclear Posture Review: Back to Armageddon."
Daniel Ellsberg
I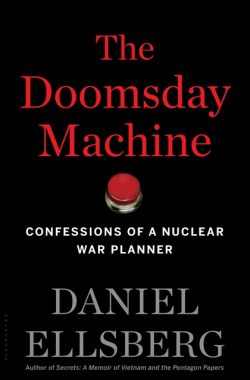 t's official. On January 25, the Doomsday Clock ticked forward 30 seconds to rest at 2 minutes to midnight. That means we are closer now to thermonuclear war than at any time since the Cold War, according to the Bulletin of Atomic Scientists. And with President Trump having mused aloud "if we have nuclear weapons, why can't we use them," the threat of all out nuclear war seems graver than ever.
But its not like it ever went away, even after the fall of the Soviet Union. In fact, as legendary Pentagon Papers whistle-blower Daniel Ellsberg writes in his explosive new book The Doomsday Machine, every president since Truman has prepared for nuclear war on a hair trigger basis.
He knows, because he was the high-level defense analyst who wrote the plans for nuclear war in the 1960's. In fact, he had planned to reveal those plans after releasing the Pentagon Papers, but the copies he had made of first hand source material got lost in a freak accident. In the decades since, the original documents have been declassified, and he now reveals it all in his shocking firsthand account of America's nuclear program.
The Doomsday Machine is a "chronicle of human madness", as Ellsberg calls it, that now has become even more salient with a reckless president in charge of our nuclear arsenal.
Read an excerpt from The Doomsday Machine
Michael Klare
The Trump administration announced its new nuclear policy this week — and it's terrifying. It calls for increasing the role of nuclear weapons in US foreign policy strategy, along with a 1.2 trillion investment in new nuclear weapons. Some of those would make it far easier to start a nuclear war than ever before.
Hampshire college peace and security studies professor Michael Klare says Trump's nuclear policy will only increase the risk of confrontation with the other nuclear powers, including Russia and China. Read his Nation article Trump's Nuclear Posture Review: Back to Armageddon.
Michael Klare is the author of numerous books, including Rising Powers, Shrinking Planet, which he spoke about with Writer's Voice in 2008.
Watch Brave New Films trailer "Mental Health Experts on Donald Trump"