Podcast: Play in new window | Download
Subscribe: Apple Podcasts | RSS
Family separation continues to devastate the lives of children, as explored in Sylvia Rodriguez-Vega's book, Drawing Deportation: Art and Resistance among Immigrant Children. This poignant work delves into the traumatic experiences faced by immigrant children and showcases the healing power of art in their recovery. We talk with Sylvia Rodriguez-Vega in this pod's first segment.
Then we talk with Amy Beutens about You Are The Universe: Ram Dass Maps The Journey, which  brings to life the profound teachings of renowned spiritual teacher Ram Dass. With captivating illustrations and co-editing by Julie Weinstein, this graphic book conveys a transformative message of love and unity, appealing to both teens and adults.
Writers Voice— in depth conversation with writers of all genres, on the air since 2004.
Like us on Facebook at Writers Voice with Francesca Rheannon, on Instagram @WritersVoicePodcast or find us on Twitter @WritersVoice.
Love Writer's Voice? Please rate us on your podcast app. It really helps to get the word out about our show.
Tags: immigration, family separation, Ram Dass, spiritual journey, Amy Beutens, Sylvia Rodriguez-Vega, writers voice, podcast, book recommendations, author interview, book podcast, book show, nonfiction
Family Separation: Still Happening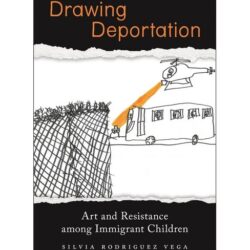 Many Americans were profoundly shocked at the images of young children held in cages at the southern border when former president Trump imposed his family separation policy. But the US has been separating immigrant families for long before Trump—and continues to do so under Biden.
It's not just happening at the border. Every day, families are being ripped apart as our cruel and dysfunctional immigration system deports parents, leaving traumatized children behind. Just the constant fear of deportation is enough to damage the health and wellbeing of children.
Immigrant Children: Healing Trauma Through Art
My guest Sylvia Rodriguez-Vega explores the trauma of immigrant children and innovative programs of using art to deal with the trauma. Her book Drawing Deportation draws on her ten years of work with those children, helping them express their fears and hopes through art and theater.
It shows the healing power of art, but also calls for systematic change to stop traumatizing kids in the first place.
About the Author
Sylvia Rodriguez-Vega teaches at US Santa Barbara about structural inequality, ethnic studies, immigration policy, and arts and activism through performance and digital media.
***
You Are the Universe: Ram Dass Maps the Journey
Ram Dass was one of America's most loved spiritual teachers. His dedication to the service of others is what drew Writer's Voice host Francesca Rheannon to him, notably with his book How Can I Help.
Ram Dass' Message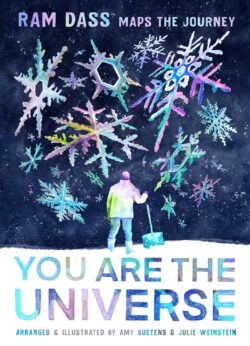 But even before that book, he opened her and many others of her generation to a way of being that transcended social expectations with his book Be Here Now. His message wasn't so much that of his Harvard colleague Tim Leary: turn on, tune in and drop out, as it was tune in and love everybody.
That's the message at the heart of a lovely new graphic book for teens and adults, You Are the Universe: Ram Dass Maps the Journey.
Using Ram Dass' own words from writings and recordings, Amy Beutens illustrated and co-edited the book with her twin sister and long-time collaborator, Julie Weinstein.