Podcast: Play in new window | Download
Subscribe: Apple Podcasts | RSS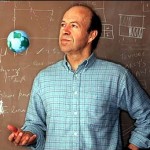 Climate scientist Dr. James Hansen talks about STORMS OF MY GRANDCHILDREN. It's about climate catastrophe and how we must — and can — prevent it. Richard Wilbur reads "Advice To A Prophet". And we pay homage to Robert Parker and Howard Zinn, who both died in late January, 2010.
[amazon-product align="right"]1608192008[/amazon-product]
Dr. James Hansen
NASA recently reported that 2009 was the second warmest year on record, capping the warmest decade recorded. Dr. James Hansen is the head of NASA's Goddard Institute for Space Studies. He taught Al Gore about climate change. The Bush administration tried to muzzle him when the then head of NASA tried to keep him from saying that humans were the cause behind global warming. And he was one of the first to sound the alarm that climate change is real, it's happening, and threatens life as we know it on Planet Earth. One of the leading climatologists in the world today, Hansen was named in 2006 by Time Magazine as one of the world's 100 most influential people.
His new book, [amazon-product text="STORMS OF MY GRANDCHILDREN: The Truth About the Coming Climate Catastrophe and Our Last Chance to Save Humanity" type="text"]1608192008[/amazon-product], calls global warming a generational crime. Hansen says that we can get off fossil fuels and must phase out coal by 2020 lest the earth warm to a level it hasn't seen for 55 million years, when the ice sheets were gone and crocodiles frolicked at the North Pole. And he says it could get even worse — runaway climate change could lead to an Earth as hot and lifeless as Venus. But, we can get off our fossil fuel addiction without breaking the bank for the average person if we can tax carbon and return the proceeds to you and me and to support renewable energy.
[sniplet amazon bookstore widget]
James Hansen received the Award for Scientific Freedom and Responsibility from the American Association for the Advancement of Science "for his quote courageous and steadfast advocacy in support of scientists' responsibilities to communicate their scientific opinions and findings openly and honestly on matters of public importance."
Richard Wilbur, Advice to A Prophet.
WV Interview with mystery novelist Robert Parker.
WV Interview with historian Howard Zinn.