Podcast: Play in new window | Download
Subscribe: Apple Podcasts | RSS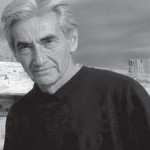 The great "people's historian" Howard Zinn died January 27, 2010 at the age of 87. His book, A PEOPLE'S HISTORY OF THE UNITED STATES, presented an alternative view to the one most are taught in school: instead of focusing on presidents and tycoons, it told the story of people's movements, including those of workers, civil rights and antiwar activists, women and gays, lesbians and bisexuals.
Zinn spoke to Writers Voice host Francesca Rheannon in 2005 about his companion volume to A PEOPLE'S HISTORY, [amazon-product text="VOICES OF A PEOPLE'S HISTORY OF THE UNITED STATES" type="text"]1583229167[/amazon-product]. It's a collection of writings from the great protagonists of social justice: Frederick Douglass, George Jackson, Chief Joseph, Martin Luther King Jr., Sacco and Vanzetti, and Malcolm X, among many others. Zinn talks about hi perspective on history, war and peace, and the two sides of the American story — idealism and exploitation.
Go to Howard Zinn page on Amazon.com
.
In this video Zinn discusses his experiences fighting during World War II and his being asked to bomb a small town in France.