Podcast: Play in new window | Download
Subscribe: Apple Podcasts | RSS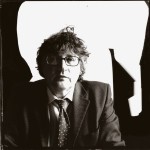 Guest host Christian McEwen interviews Paul Muldoon, poet and poetry editor of The New Yorker. And Francesca Rheannon talks with the director and cast members of a new production of the documentary play Voices in Conflict. It's being presented by the New Century Theatre in western Massachusetts.
[amazon-product align="left"]0374528845[/amazon-product]
The Irish poet Paul Muldoon was born in 1951 in Portadown, County Armagh and studied under Seamus Heaney at Queens College in Dublin.  Poetry editor of The New Yorker, he's author of numerous books, including Wayside Shrines, Plan B, and When the Pie Was Opened. He won the Pulitzer Prize for Poetry for Moy Sand and Gravel. Guest host Christian McEwen spoke with him in April 2009, when he came to read at Smith College, in Northampton, MA. The interview is part of Sparks from the Anvil, a series of conversations with poets Christian is doing in collaboration with the Poetry Center at Smith College.
Listen to Paul Muldoon reading his poetry.
[sniplet amazon bookstore widget]
In March of 2007 students at Wilton High School in Connecticut tried to stage a play they had created for their drama class–but the play was banned by their principal. The subject was war–the experience of American soldiers in Iraq, as told through their own writings and letters. The highschool's drama teacher, Bonnie Dickinson, thought the students might make an emotional connection to the soldiers, most of whom are so close to the students in age. They did, especially because one of their own, a student who had graduated just two years before, had been killed in Iraq. But one of the students in the drama class, whose brother was stationed in Iraq, objected to the play. She got her mother to go to the principal with a complaint. Voices in Conflict did go on, but on the off-broadway stage, not at Wilton highschool.
Now the production is being staged with a new cast by the New Century Theatre based at Smith College in Northampton, MA. I spoke with director. Keith Langsdale and Justin Fuller and Tierra Allen, actors from the new production. This new version expands on the original piece to include the controversy in Wilton.
Watch CPTV's airing of the original production of Voices in Conflict