Podcast: Play in new window | Download
Subscribe: Apple Podcasts | RSS
Ava Chin tells us about her stunning family memoir/history of the Chinese Exclusion Act in America, Mott Street: A Chinese American Family's Story of Exclusion and Homecoming.
Then we talk with Tanis Rideout about her new novel The Sea Between Two Shores. It's about two families, one Canadian and one from an island in Vanuatu, who must deal with the legacy of colonialism in the South Pacific and the responsibilities they have to each other.
Writers Voice— in depth conversation with writers of all genres, on the air since 2004.
Like us on Facebook at Writers Voice with Francesca Rheannon, on Instagram and Threads @WritersVoicePodcast or find us on Twitter @WritersVoice.
Love Writer's Voice? Please rate us on your podcast app. It really helps to get the word out about our show.
Tags: fiction, nonfiction, memoir, Chinese Exclusion Act, Vanuatu, Ava Chin, Tanis Rideout, writer's voice, podcast, book recommendations, author interview, book podcast, book show, book excerpt, history
Ava Chin, Mott Street
Ava Chin's writing studio is in the same building on Mott St in New York City's Chinatown where her forebears lived for generations—on both sides of her family.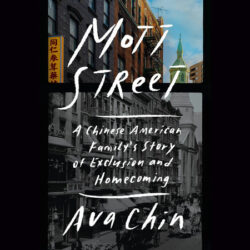 But she grew up estranged from her father and his family, raised by her mother and maternal grandparents.
Her drive to find out more about her father and his family led her on an odyssey of discovery that had relevance far beyond the circle of her family. It illustrates the whole history of Chinese immigration to the US., a history of exploitation and exclusion, as well as the Chinese community's long struggle against injustice.
Chin relates this history in her spellbinding new book, Mott Street: A Chinese American Family's Story of Exclusion and Homecoming.
About The Author
Ava Chin is professor of creative nonfiction and journalism at the CUNY Graduate Center. She is the former Urban Forager columnist for the New York Times and her previous book was Eating Wildly.
Read an excerpt from Mott Street
Tanis Rideout, The Sea Between Two Shores
In the early 1800s, a Nova Scotian couple arrives on the shores of an island in the Oceanic archipelago of what is now known as Vanuatu to convert the local Indigenous peoples. The arrival of these strangers leads to exchange and friction, cooperation and violence, culminating in a catastrophe the missionaries unwittingly unleash on the island.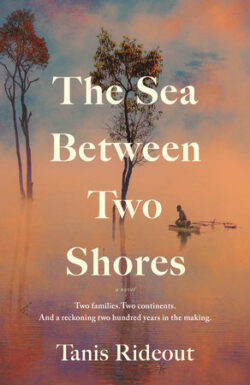 Two hundred years later in Toronto, the Stewarts are a family locked in mourning after the accidental drowning of their youngest son. When Michelle Stewart receives an unexpected call from the island of Iparei inviting the Stewarts to participate in a reconciliation ceremony for their respective ancestors, she accepts in a desperate effort to save herself and her family.
This is the story that Tanis Rideout weaves in her novel The Sea Between Two Shores. Based loosely on actual events, the book explores how two cultures deal very differently with grief, the tragedies that bind them, and the responsibilities they may hold to each other.
About The Author
In addition to The Sea Between Two Shores, Tanis Rideout is the author of the bestselling novel Above All Things and the poetry volume, Arguments with the Lake.