We talk with Annalee Newitz about their new sci-fi novel, The Terraformers. Taking place some 60,000 years in the future on a planet far, far away it pits a motley crew of designer sentient life forms, including neo-Neanderthals, talking moose, sentient trains, journalist cats and gender-diverse Homo sapiens, against the greedy corporation that wants to gentrify their planet.
We have to design our living spaces, the places where we play, the places where we farm, our corporate landscapes, our roadsides. All of these places have to be designed in ways that welcome nature rather than expel her. — Doug Tallamy
Then we talk with ecologist Doug Tallamy about the Young Reader's Edition of his bestseller, Nature's Best Hope. The book outlines his vision for a homegrown national park composed of millions of urban, suburban and exurban yards — a grassroots approach to conservation that everyone can take part in, regardless of age.
Writer's Voice — in depth conversation with writers of all genres, on the air since 2004. Rate us on your favorite podcast app! It really helps others find our show.
And like us on Facebook at Writers Voice Radio or find us on Threads and Instagram at writersvoicepodcast and at Twitter @WritersVoice.
Tags: sci-fi, Annalee Newitz, ecology, native plants, Doug Tallamy, pollinators, writers voice, podcast, book recommendations, author interview, book podcast, book show, book excerpt, science, science fiction, climate change
Annalee Newitz, The Terraformers
There's certain social aspects of this society that are very familiar. We see elements of capitalism or like super futuristic space capitalism. But there's also parts of the civilization that are really dramatically different. And one way that it's different is that there are robots and non-human animals who are people…And all of these people bring very different ideas to the table when it comes to how they want to organize life on a planet. — Annalee Newitz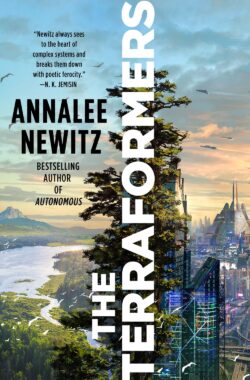 Imagine a society far, far into the future, where planets are terraformed, all life forms are designed and engineered. And all of them are persons — including sentient trains, a flying moose, and a cat who's an investigative journalist. Humans come in many configurations and genders. Some persons are free and others are enslaved. And the titanic battle between greedy capitalism and the public interest is still going on, some 60,000 years from now.
A Staggering Feat Of Revolutionary Imagination
That's the world conceived by Annalee Newitz in their new speculative fiction novel The Terraformers. It's both a delightful literary romp and a thought-provoking exploration of what sovereignty and democracy mean.
Publisher's Weekly gave The Terraformers a starred review, saying: "Newitz performs a staggering feat of revolutionary imagination in this hopeful space-opera. With the ethos of Becky Chambers and the gonzo imagination of Samuel R. Delany, plus a strong scientific basis in ecology and urban planning, this feels like a new frontier in science fiction."
We last spoke with Newitz about their nonfiction book, Scatter, Adapt, And Remember: How Humans Will Survive A Mass Extinction. In The Terraformers, they imagine an answer to that question that both entertains and inspires.
Learn about the Landback Movement
Read an Excerpt from The Terraformers
Read The Interview Transcript on Substack
Doug Tallamy, Nature's Best Hope
When he came our with his bestseller, Nature's Best Hope: A New Approach to Conservation That Starts in Your Yard, ecologist Doug Tallamy awakened thousands of readers to an urgent situation: wildlife populations are in decline because the native plants they depend on are fast disappearing.
His solution? Plant more natives.
Every Yard A Home-grown National Park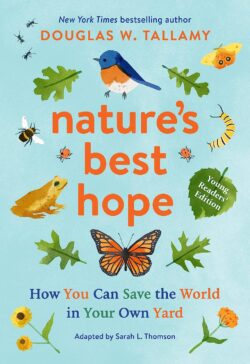 Now he's come out with a middle grade adaptation, Nature's Best Hope: How You Can Save the World in Your Own Yard.
The book outlines his vision for a homegrown national park composed of millions of urban, suburban and exurban yards — a grassroots approach to conservation that everyone can take part in, regardless of age.
Tallamy covers a lot of ground and does so in such an engaging manner that concepts such as the carrying capacity of the Earth, carbon sinks to combat climate change, and the threat invasive species pose to birds, bees and other beings are easy to grasp. In this way, Tallamy empowers kids to help their families make change in their own backyards.
About The Author
Doug Tallamy is a professor in the Department of Entomology and Wildlife Ecology at the University of Delaware.