Podcast: Play in new window | Download
Subscribe: Apple Podcasts | RSS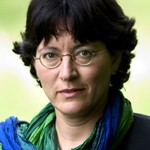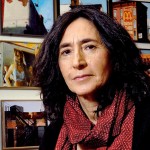 Francine Prose talks about her terrific new book, ANNE FRANK: THE BOOK, THE LIFE, THE AFTERLIFE. It shines a writer's lens on Frank's diary and on its postwar reception in the U.S. and elsewhere. And Israeli journalist Amira Hass tells us about her mother's DIARY OF BERGEN BELSEN, a searing account of moral courage in the face of unrelenting brutality.
Most years at this time I air a program commemorating the Night of Broken Glass, or Kristallnacht. That was the anti-Jewish pogrom in Nazi Germany and Austria that took place on November 9 and 10, 1938. For those Jews who had tried to convince themselves that the Nazis were more bark than bite, the pogrom was a wake-up call — but one that came too late for most. By 1938, it was difficult to get a visa to a safe country of refuge.
[amazon-product align="right"]006143079X[/amazon-product]
Otto Frank, the father of Anne Frank, was much more farsighted than most German Jews. Already by 1933, he had moved himself and his wife and two daughters to Holland. But in 1940, the Germans overran the Netherlands and Otto knew he had to once again plan for his family's safety. The story of their move to the Annex – a hidden wing over Frank's business on one of Amsterdam's oldest canals – has come to us through the words of his gifted and doomed daughter, Anne. Otto was the only one of the four to survive deportation to the camps.
Francine Prose is a writer's writer. In addition to fiction, she's written about other writers, most notably in her book [amazon-product text="READING LIKE A WRITER" type="text"]0060777052[/amazon-product], which we interviewed her about on this show. Now she's turned her attention to the diary of Anne Frank and how it has been seen since it was published. She says over the course of her time in the Annex, Anne became an extraordinarily accomplished writer, using literary devices like addressing the diary to an imaginary friend, Kitty, and reworking earlier passages to make them tighter and more compelling. Francine Prose's new book is [amazon-product text="ANNE FRANK: THE BOOK, THE LIFE, THE AFTERLIFE" type="text"]006143079X[/amazon-product].
Listen to Francine Prose's other interviews on Writer's Voice:
[amazon-product align="left"]1931859876[/amazon-product]
When Israeli journalist Amira Hass was growing up, there were a few stories her mother told her about her experience in the Nazi concentration camp Bergen Belsen — like the one about how her mother, Hannah Levy-Hass, helped organize the women in her barracks to demand an equal sharing out of the meager portions of watery soup they were allotted. Designed to break the grip of the kapos, or prisoner deputies of the Nazi authorities, the strike won its objective and no doubt saved the lives of some of the women inmates.
"When we speak about suffering…my parent's experience made them very vulnerable to any suffering, very attentive to the suffering of the Palestinians."
But Hass never learned the whole story of her mother's internment until she read her Hannah Ley-Hass's diary of Bergen Belsen. Published now in English, the book has a forward and afterword written by her daughter. It's a searing tale of extreme deprivation, starvation and brutality. But also of the undaunted courage of one young woman who kept faith with her moral convictions in spite of soul-crushing circumstances.
Amira Hass is renowned for her newspaper columns on the conditions of Palestinians living under Israeli occupation. She works for the Israeli daily, Ha'aretz and lives in Gaza. Both her parents are Holocaust survivors – and both were longtime activists in opposing Israeli government policy toward Palestinians.
Amira Hass is the recipient of the International Women's Media Foundation 2009 Lifetime Achievement Award for her bravery in being an Israeli citizen who lives and reports from Gaza.
Links