Podcast: Play in new window | Download
Subscribe: Apple Podcasts | RSS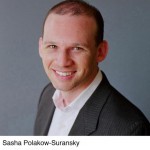 Writers Voice talks with Sasha Polakow-Suransky about his book, THE UNSPOKEN ALLIANCE. And, in an excerpt from our 2009 interview, Israeli journalist Amira Hass talks about her Holocaust survivor parents' involvement in the Israeli peace movement.
[amazon-product align="right"]0375425462[/amazon-product]
As we produce this show, the World Cup Soccer games in South Africa are over and a new word has entered the American vocabulary — vuvuzela. But six decades ago, a much more sinister word came into our vocabulary from South Africa: apartheid. After decades of struggle, Black South Africans were able to overthrow the apartheid regime — an effort that was helped by an international embargo against trade with South Africa.
But not all countries observed the embargo. And some that claimed to, did not do so, in fact. One of them was Israel — and the lucrative trade it carried on with the apartheid regime was in weapons. The relationship extended to high level sharing of information and supplies for the secret nuclear weapons programs of both countries.
That's what Sasha Polakow-Suransky shows in his controversial new book, THE UNSPOKEN ALLIANCE: Israel's Secret Relationship with Apartheid South Africa.
The day before the book was released, the Guardian published a story about top level secret documents Polakow-Suransky found revealing that Israel offered to sell nuclear warheads to the apartheid regime. In response, Shimon Peres issued a denial. But the author stands by this and even more damning revelations that he uncovered through painstaking research and face-to-face interviews with key officials involved.
Sasha Polakow-Suransky is a senior editor of Foreign Affairs, the journal of the Council of Foreign Relations in New York. His writing has appeared in The American Prospect, the International Herald Tribune, The New Republic, and Newsweek.
[amazon-product align="left"]1931859876[/amazon-product]I spoke with Israeli journalist Amira Hass back in November of 2009 She was visiting the US on a tour to promote her mother's diary of internment in Bergen Belsen during WWII (DIARY OF BERGEN BELSEN), which Hass edited. Both her parents were Holocaust survivors; after the war, they emigrated to Israel. Hass says the suffering her parents experienced during the holocaust made them very vulnerable to any suffering — and very attentive to the suffering of the Palestinians. They both became active in the Israeli peace movement.
In this excerpt from our 2009 interview, Hass says her mother felt deeply betrayed by what she saw as the use of the Holocaust by Israeli authorities to attack those who criticize their Palestinian policy. Her mother referred to it as " the merchandizing of the Holocaust" and called for it to stop.