Podcast: Play in new window | Download
Subscribe: Apple Podcasts | RSS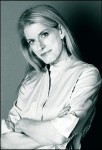 Writers Voice spends the hour with fiction writer Marisa Silver, talking about the craft of writing, her new collection of short stories ALONE WITH YOU and her 2008 novel, GOD OF WAR.
[amazon-product align="right"]1416590293[/amazon-product]
The New York Times called Marisa Silver "one of California's most celebrated contemporary writers". We first spoke to her in 2008 about her wonderful novel, THE GOD OF WAR. Now she's come out with an equally wonderful collection of stories, ALONE WITH YOU. They explore the ambiguities in human relationships — the push and pull we feel towards those we love — and the responsibilities we have toward one another.
I sat down with Silver at the office of her publisher, Simon and Schuster, in New York recently to talk about the craft of writing and her latest story collection of stories.
[amazon-product align="left"]1416563164[/amazon-product]
In addition to ALONE WITH YOU, Silver is the author of the 2001 story collection, BABE IN PARADISE, which was named a New York Times Notable Book of the Year. Her novel, GOD OF WAR was a finalist for the Los Angeles Times Book Prize for fiction. We spoke to her about it in 2008.
Coming Attraction: Writers Voice will be talking to poet Philip Schultz about his new poetry volume, THE GOD OF LONELINESS. On this week's show, he reads several poems from the book, including "Failure". Â (Thanks to Tony Ernst and Hazel Kahn of WPKN for the audio of the poet.)