Podcast: Play in new window | Download
Subscribe: Apple Podcasts | RSS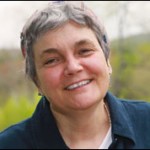 Christian McEwen tells us about taking it slow in WORLD ENOUGH & TIME; we talk with Jane Brox about the evolution of artificial light; and we also hear a Winter Solstice story by host Francesca Rheannon, "The Food Philosophe".
Christian McEwen
Poet Christian McEwen inhabits a sense of time that has all but disappeared in our frenzied world. Francesca met her several years ago over a poetry project with Smith College and she became a friend, the kind of friend to have leisurely conversations with over tea or to take a walk with along the Mill River in Northampton, MA, just a stone's throw from her home. Her home is a writers' sanctuary — books are everywhere, and the largest room in the house is her study. There's no TV. She has created a generous space for unstructured time, that building block of contemplation, creativity and convivial conversation — all central to the life of the writer and poet.
But everyone needs that kind of space — and we get too little of it. We are more and more infected with what McEwen calls "hurry sickness." It's making us lonelier, more stressed, and less resilient. Children are losing recess, people have no time for friends — unless they're on Facebook — and our health is suffering, too. We are missing life as we rush through it. It's time to slow down.
McEwen's new book World Enough & Time: On Creativity and Slowing Down takes the reader on a stroll through slowing down and what it can do for us. She draws not only on her own experience, but also on literary anecdotes and poetry, spiritual traditions, anthropology, and social history.
McEwen has published her poems and essays widely. She teaches poetry, environmental literature and creative writing at, among others, Williams College and Smith College. In addition to World Enough & Time, MacEwen has edited four anthologies; her poems and essays have been widely published. She's currently working on a play about women and money.
In 2009-2010, Writers Voice aired parts of the first annual series of interviews Christian McEwen does with poets of note. The series is called Sparks From The Anvil. Listen to her interviews with Paul Muldoon, Gwyneth Lewis, Marian Boruch and Aracelis Girmay.
Jane Brox
The Winter Solstice marks the shortest day of the year. It doesn't affect us moderns much; we have plenty of artificial light — too much, even, with light pollution disrupting the natural rhythms of many species. But imagine what it was like for our ancestors who didn't have electricity and lightbulbs to illuminate their nights. No wonder humans have celebrated the coming of longer days in every culture.
Back in January of 2011, we talked with author Jane Brox about her book, BRILLIANT. It's about the evolution of artificial light.
Listen to the Full Interview here.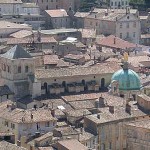 The Food Philosophe: A Winter Solstice Tale
Host Francesca Rheannon spent several months living in southern France in 2001-2002. Soon after her arrival in the Fall of 2001, she soon became good friends with a couple living in the old Roman town of Apt. She had been introduced to them — Michel, a chef, and his wife, "Magali" (not her real name) — by her friend, the writer Fabienne Pasquet.
On December 21, Magali and Michel threw a dinner party to celebrate the Winter Solstice. The food was divine, the wine likewise, and the company convivial — and Francesca ended up learning a profound lesson about the French Art of Living.
Francesca wrote up her experience in the story, "The Food Philosophe," part of a longer memoir of her sojourn in Provence. She reads it this week for Writers Voice, aided by former Writers Voice co-host, Daisy Mathias, who plays the part of Magali.