Podcast: Play in new window | Download
Subscribe: Apple Podcasts | RSS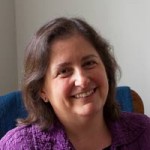 Jane Brox talks about her book, BRILLIANT: The Evolution of Artificial Light. And in view of the shooting in Arizona that injured Congresswoman Gabrielle Giffords, WV airs a 2008 interview with neuroscientist Jill Bolte Taylor about MY STROKE OF INSIGHT, her memoir of recovering from a stroke. It affected the left side of her brain–the same side injured in Rep. Giffords.
Jane Brox
"So much of life as we know it–our long evening hours, our flexible working days, our feelings of safety at night–depends upon cheap, abundant light made possible by the incandescent bulb. Now that new government energy efficiency standards will make filament light bulbs illegal by 2014–and for the first time our new means of illumination may not be as satisfactory as the old–it's the perfect moment to look at the extraordinary story of how we came to inhabit our world built of light."
That's a quote from Jane Brox, author of BRILLIANT, a wonderful new history of artificial light that starts back in the caves of Lascaux some 30,000 years ago and brings us up to the present day. She brings not just history to light, but science and environmental conundrums, as we face the need to find more efficient light and lessen the impact of light pollution on wildlife. Brilliant is published by Houghton Mifflin Harcourt. Time Magazine named the book fifth on its list of top 10 nonfiction books of 2010.
In addition to BRILLIANT, Jane Brox is the author of Here and Nowhere Else, Five Thousand Days Like This One, and Clearing Land.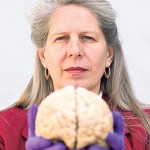 Jill Bolte Taylor
On January 8 Arizona US Congresswoman Gabrielle Giffords was shot in the head by 22 year old gunman Jared Loughner in an assault that killed and wounded several other people. Giffords was shot straight through the left side of her brain — a terrible injury that, however, she is currently expected to survive and may able to substantially recover from.
Jill Bolte Taylor was working as a brain scientist at the Harvard Brain Tissue Resource Center when she suffered a devastating stroke that affected the left side of her brain; it took her six years to fully recover. And, strangely enough, her need to depend on the right side of her brain brought her great insight into what are the often hidden gifts our right brains have for us. Her memoir of her experience is MY STROKE OF INSIGHT: A Brain Scientist's Personal Journey. In this 2008 interview with WV, she talks about what it was like to suffer a left brain injury and how she recovered.