Podcast: Play in new window | Download
Subscribe: Apple Podcasts | RSS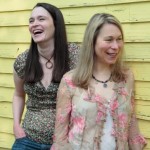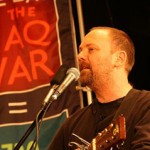 Folksinger sisters Katryna and Nerissa Nields talk about their terrific book and CD set, ALL TOGETHER SINGING IN THE KITCHEN. And topical singer-songwriter David Rovics tells us about writing "songs of social significance" and we listen to a few. Nowadays, singing with the family is something of a lost tradition, with so many of us glued to our screens, parents and kids.
Singer-songwriters Katryna and Nerissa Nields are hoping to bring that tradition back with their new book and CD set: ALL TOGETHER SINGING IN THE KITCHEN: Creative Ways to Make and Listen to Music as a Family. Dar Williams said of the book:
"The Nields show you how to weave music into your children's lives with glitter and grace. This wonderful go-to book will help real people create not just musical opportunities, but a musical home."
Nerissa and Katryna Nields are national touring folk musicians. They've shared the stage with Pete Seeger, Arlo Guthrie, Suzanne Vega and Joan Baez, among others. In addition to All Together Singing In The Kitchen, Nerissa and Katryna Nields have released fifteen albums, including another family album. They also have a family music DVD titled Organic Farm.
David Rovics
David Rovics is a musician in the long tradition of topical singer-songwriters, like Phil Ochs, Tom Paxton, Holly Near and Pete Seeger. His repertoire covers such topics as Hurricane Katrina, Occupy Wall Street, Bradley Manning, labor history, green energy and more.
Rovics has written more than 200 songs of social significance. You can find links to listen and download them for free by starting here. He also writes a blog, Songwriter's Notebook, and contributes essays to Counterpunch and other venues. He's currently on a tour throughout the US and Canada, but he makes his home in Portland, Oregon.