Podcast: Play in new window | Download
Subscribe: Apple Podcasts | RSS
We talk with Ruth Ozeki about her wonderful new novel, The Book of Form and Emptiness. It's a coming-of-age/Hero's Journey that is heart-wrenching, inspiring, funny and deeply wise.
Then, writer Hilma Wolitzer tells us about her retrospective collection of stories, Today A Woman Went Mad In The Supermarket. It spans decades of stories about an ordinary couple, written in extraordinary prose.
Writers Voice— in depth conversation with writers of all genres, on the air since 2004.
Like us on Facebook at Writers Voice Radio, on Instagram @WritersVoicePodcast or find us on twitter @WritersVoice.
Love Writer's Voice? Please rate us on your podcast app. It really helps to get the word out about our show.
Ruth Ozeki
In Ruth Ozeki's new novel, The Book of Form and Emptiness, the objects around him speak to a boy who is grieving the loss of his father. The most central object is the Book itself, which writes Benny's story, engaging in a heuristic dialog with its young subject.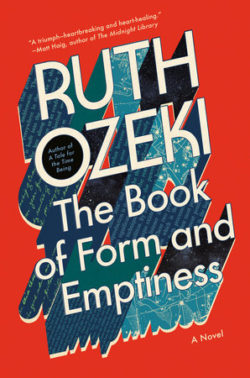 The novel is a Hero's Journey and coming-of-age story that spins the tale of Benny and his also-grieving mother Annabelle with compassion and wisdom. No surprise there, as Ozeki is a long time practitioner of Zen Buddhism and has been a Zen priest since 2010.
With its blend of sympathetic characters, riveting plot, and engagement with everything from jazz, to climate change, to our attachment to material possessions, The Book of Form and Emptiness is classic Ruth Ozeki — bold, wise, poignant, playful, humane and heartbreaking.
We spoke with her in 2013 about her third novel, A Tale for the Time Being, which was shortlisted for the 2013 Booker prize.
Ruth Ozeki teaches creative writing at Smith College and is affiliated with the Brooklyn Zen Center and the Everyday Zen Foundation.
Read an excerpt from The Book of Form and Emptiness
Hilma Wolitzer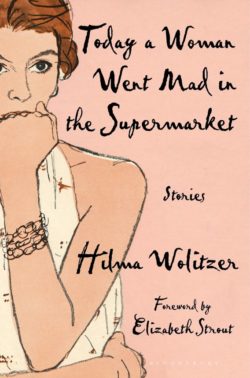 When nonagenarian writer Hilma Wolitzer and her husband came down with COVID last year (Wolitzer survived but her husband did not), she couldn't anticipate the season of grief it would bring—nor that the way out of that grief would be led by a book.
Wolitzer's daughter, the writer Meg Wolitzer, suggested her mother put together a collection of short stories that Hilma had written over decades. The project was a way to deal with her loss. In Today A Woman Went Mad In The Supermarket, the stories are about a married couple, Paulie and Howard, and the course of their marriage over a lifetime.
Their life together is ordinary, but the writing is not. Wolitzer wields her pen masterfully, illuminating her characters and their motivations with, as one reader, Lauren Goff, put it, "wit, with rage, with grief, with the kind of prose that makes you both laugh and thrill to the darker, spikier emotions just barely visible under the bright surface."
In addition to Today A Woman Went Mad In The Supermarket, Hilma Wolitzer is the author of thirteen novels, including four for young readers, and one of nonfiction.
Next week on Writer's Voice: we talk with David Stebenne about his book, Promised land: How The Rise Of The Middle-Class Transformed America and Victor Wooten tells us about his allegorical novel, The Spirit Of Music.