Podcast: Play in new window | Download
Subscribe: Apple Podcasts | RSS
We talk with Alyss Thomas about her guide to journaling: The Journal Writer's Companion. Then, we check in with Thomas' brother Gareth St. John Thomas about his terrific guide to learning and writing about a family member's history. It's called Finding True Connections.
Writer's Voice — in depth conversation with writers of all genres. On the air since 2004. Like us on Facebook at Writers Voice with Francesca Rheannon or find us on twitter @WritersVoice. And if you are listening to our podcast, give us some love on iTunes or whatever podcast app you use.
Alyss Thomas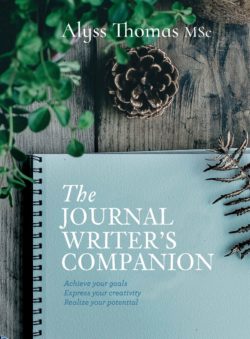 As Alyss Thomas points out in her book The Journal Writer's Companion, many studies show that effective journal writing can help you accomplish your goals. It can also develop emotional intelligence and counteract depression, something Thomas has used in her career as a psychotherapist. And, it seems, it can benefit you in a host of other ways.
The Journal Writer's Companion is a comprehensive reference to many different kinds of journaling techniques, from gratitude journals to bullet journals, from legacy journals to art journals.
Alyss Thomas is a writer, coach and therapist and has worked as a writing coach for over twenty years. In addition to The Journal Writer's Companion, she's also the author of The 1000 Most Important Questions You Will Ever Ask Yourself.
Journal Writers For Success on Facebook
Gareth St. John Thomas
Have you ever thought about writing down a family member's history? A grandparent or an older parent? Or your own history? History that you don't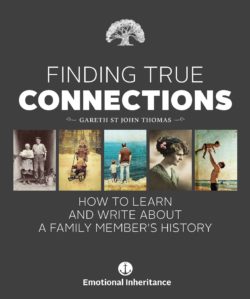 want to lose. History to pass on to your children.
Have you then felt awkward asking a relative about the past? All too often, the family member in question doesn't seem interested in sharing their history. Or so you may think. Maybe they're being modest. Maybe they don't think their life is worth talking about. Or if you want to write your own history, you don't know what to focus on.
That's where Gareth St. John Thomas' book Finding True Connections comes in. It provides a framework and useful prompts to get the conversation started (even if it's just with yourself) and suggestions about how to handle difficult or sensitive topics.
Designed as a series of double-page spreads, on the left-hand page is a prompt question, while opposite are notes on how to gain the most meaningful answers, to do yourself or to discover more about a family member.
Gareth St John Thomas is the founder of Exisle Publishing house.
Next week on Writers Voice, we talk with Michael Klare about his latest book All Hell Breaking Loose: The Pentagon's Perspective on Climate Change.