Podcast: Play in new window | Download
Subscribe: Apple Podcasts | RSS
It's Valentine's Day, but instead of the usual romantic fare, we take an unconventional look at relationships.
We talk with Briallen Hopper about her wonderful collection of essays about all kinds of love, Hard to Love: Essays and Confessions. 
Briallen Hopper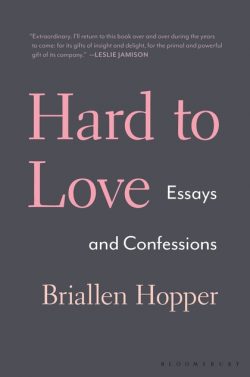 On Valentines Day, we celebrate romantic love. But what about all the other kinds of love?
Briallen Hopper's insightful and beautifully written essay collection Hard To Love (Bloomsbury Press) honors forms of love and relationships beyond romance and marriage, the ones that are often treated as invisible or seen as secondary: friendships, kinship with adult siblings, or care teams that form in times of illness. She also values more difficult to define loves, like loving a challenging job or inanimate objects that can't love you back.
Drawing from personal experience, Hopper shares stories about her family, the friends who have become her found family and pop culture touchstones like the TV series Cheers. And her essay about hoarding is a thought-provoking answer to the Marie Kondo craze.
Hard to Love is a series of love letters to the underappreciated forms of intimacy and community that are tricky, tangled, and tough, but ultimately sustaining.
Briallen Hopper teaches creative nonfiction at Queens College (CUNY.) Her
work has appeared in the Los Angeles Review of Books, The New Republic, Newsweek, New York Magazine and many other venues.