Podcast: Play in new window | Download
Subscribe: Apple Podcasts | RSS
We talk with Fred Block about his book Capitalism: The Future of an Illusion. Then, Les Leopold discusses his article on Common Dreams, "Beware the Moderate Democrat."
Fred Block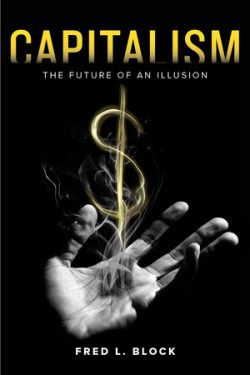 With all its trillions of transactions, the economy seems to operate outside the range of human control—and if you intervene, you'll destroy jobs or the ability to make a profit.
Economic sociologist Fred Block says this is an illusion: in reality, capitalist economies are heavily shaped by politics, social power of elites and governmental action.
In Capitalism: The Future of an Illusion, Block argues that restoring the vitality of the United States and the world economy can be accomplished only with major reforms on the scale of the New Deal. In other words, society can guide the wheel of the market to steer it in a fairer direction.
Block is Research Professor of Sociology at the University of California, Davis. In addition to Capitalism, The Future of An Illusion, He is the coauthor of The Power of Market Fundamentalism.
Les Leopold
There's a lot of talk these days about how, if they want to defeat Trump in 2020, Democrats, will have to forego their progressive agenda and appeal to the center. That's where the voters are, it's said.
But what if that's not true? What if it's a notion that comforts the comfortable—but actually may hurt Democratic chances to take the White House? That's what Les Leopold says in his recent post on Common Dreams, "Beware the Moderate Democrat: Why The Centrist Extremists Are An Incredibly Dangerous Political Animal."
He draws on research showing that the socially liberal/fiscally conservative centrists actually make up less than 4% of the electorate. Leopold says a bold platform of economic fairness will appeal to something like 75% of the electorate, including some Trump voters. That way, Democrats can appeal to both new nonwhite voters and Obama-Trump white voters.
Les Leopold is the author of several books. Listen to our interviews with him about his book The Man Who Hated Work And Loved Labor, The Looting of America, How To Make A Million Dollars An Hour, and Runaway Inequality. His website is Runaway Inequality.org.