Podcast: Play in new window | Download
Subscribe: Apple Podcasts | RSS
Writers all around the nation gathered on January 15 to celebrate Martin Luther King Jr's birthday in a spirit of resistance to the incoming administration of Donald J. Trump.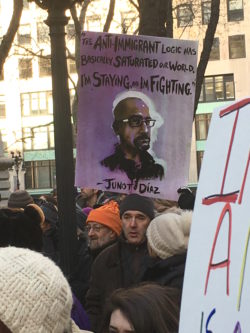 The national event was called Writers Resist. In New York, Francesca traveled to the New York Public Library at 42nd Street to mingle with a crowd of more than 2,000 gathered to hear writers read from works of resistance by themselves and others at a podium set up between the iconic library lions.
Among the speakers were Amy Goodman, who read Natalie Diaz's poem "Abecedarian Requiring Further Examination of Anglikan Seraphym Subjugation of a Wild Indian Reservation" and poet Emanuel Xavier reading his poem "Americano." We recorded Goodman and Xavier as they read.