Podcast: Play in new window | Download
Subscribe: Apple Podcasts | RSS
We talk with environmental writer David Gessner about his new book about two of the greatest writers — and champions — of the Western wilds, All The Wild That Remains: Edward Abbey, Wallace Stegner, and the American West. We also re-air a clip from a previous interview with Gessner about his last book, My Green Manifesto.
And finally, we continue our Thanksgiving tradition: Marge Bruchac's telling of the true story of the holiday.
David Gessner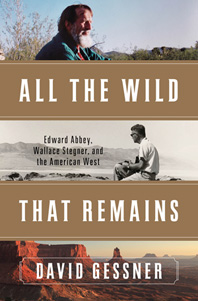 The American West is an imperiled treasure. Threatened by drought, overgrazing and environmental threats from oil and gas fracking, it still has some of the most spectacular scenery and wildest habitat remaining in the US.
Wallace Stegner and Edward Abbey loved the West. Two of our greatest writers about the region, they wrote about it with great lyric power both in fiction and nonfiction. But they did much more than that — they were activists who, in very different ways, dedicated their lives to protecting the beautiful, fragile land they loved.
Stegner helped frame the 1964 Wilderness Act. Edward Abbey coined the term "monkey-wrenching," as applied to pro-environment sabotage — and practiced it, too.
Now, environmental writer David Gessner has come out with an homage to Wallace Stegner and Edward Abbey, All The Wild That Remains. Â It is, he says, "a hybrid animal," part biography, travel narrative, mediation, literary criticism and nature writing.
All these elements are woven together into one absorbing read that bring Stegner and Abbey right up to the present day as inspiration. Like them, Gessner balances the romance of the West — and its reality.
We also hear an excerpt from my 2012 interview with David Gessner about his last book, My Green Manifesto.
David Gessner is the author of numerous books, including Return of the Osprey and Soaring With Fidel. He teaches writing at the University of North Carolina and founded the award-winning literary journal, Ecotone. 
Read David Gessner's Salon.com article, "Wallace Stegner and Edward Abbey have never been more relevant in the drought-stricken West"  
Marge Bruchac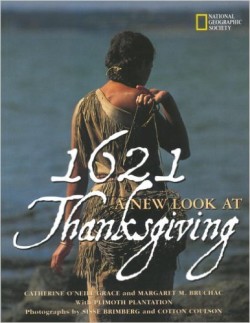 Every Thanksgiving season, Native American storyteller Marge Bruchac gets a lot of requests to talk about the first Thanksgiving, when the English settlers got together with the Wampanoag natives of Massachusettsfor a feast. The year was 1621. Bruchac co-authored the book,1621: A New Look At Thanksgiving.
Bruchac is an anthropologist, historian, and museum consultant. She's also a performer of Algonkian Indian music and oral traditions. In addition to 1621, she's the author of other books, including the children's book, Malian's Song.
In this favorite feature from Writer's Voice, Bruchac talks about Native American life when the Pilgrims landed at Plymouth Rock, their mutual encounter and what the first Thanksgiving might have been like. She also tells a traditional Abenaki tale of the Story of Corn.