Podcast: Play in new window | Download
Subscribe: Apple Podcasts | RSS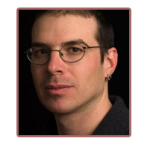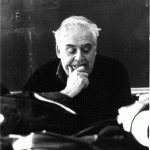 Sci Fi author Paolo Bacigalupi talks about his latest novel for young adults, SHIPBREAKER. And in honor of Poetry Month, we talk to literary critic Harold Bloom about his wonderful collection of (and commentaries on) last poems, TILL I END MY SONG.
Paolo Bacigalupi
Earth Day is coming up. What shall we tell the children? Whether you've got young ones at home or, like me, grandkids who are already asking pointed questions about the state of nature, it's a dilemma. Do we tell the truth? Try to explain that the natural world we are passing onto them is in deep trouble? End on a note of hope — one we are reaching for ourselves? Or do we just change the subject?
Science fiction writer Paolo Bacigalupi says we have to tell them the truth — it's the least us grownups owe them. Of course, he's writing for an older youth audience, the plus twelve crowd called "young adults." Bacigalupi hopes not just to warn them but also to inspire them with stories of kids who succeed against the odds.
His latest book, SHIPBREAKER, tells the story of one such kid living in a post-apocalyptic world on the Gulf Coast. Fossil fuels are a thing of the past and most people struggle to survive while the tiny elite live in comfort with their high tech, clean tech marvels.
His protagonist, Nailer, is small — the better to worm into the deepest bowels of wrecked oil tankers to pull out the valuable scrap. He meets an upper class girl after a superstorm wrecks the wind-and-solar powered ship she is traveling in. Together, they set out to save the world from a nefarious cabal. The plot is familiar, but the finely drawn world of the novel, set sometime within the next 100 years, makes the book a fascinating read.
SHIPBREAKER was a finalist for the National Book Award. Paolo Bachigalupi is also the author of THE WINDUP GIRL, which won both the Hugo and Nebula Awards, and PUMP SIX AND OTHER STORIES.
David Bollier
David Bollier writes about the commons: in BRAND NAME BULLIES, he writes about the intellectual commons; in VIRAL SPIRAL, the digital commons. Bollier is now looking into the idea of the ecological commons: what kinds of laws could be developed to protect it. We air an excerpt from an interview Francesca did for another radio show, Sea Change Radio.
David Bollier's website: news and perspective on the commons
More on the commons from onthecommons.org
Harold Bloom
April is poetry month. Francesca visited literary critic and octogenarian Harold Bloom in his New Haven home a few months ago to record an interview about his latest book,
TILL I END MY SONG. It's a marvelous collection of poems and Bloom's commentary, drawing on the work of poets he holds dear, from Shakespeare and Michael Drayton to Hart Crane and Agha Shahid Ali. All are what Bloom calls "last poems", written in the face of our inevitable mortality.
More Poetry
We air two poems to young people. One describes the fears young people have and the second describing our hopes for them. They appear in the anthology & CD set POETRY SPEAKS WHO I AM (Paschen Books, 2010), read by the poets themselves.
Toi Derricotte: "Fears of the 8th Grade"
Richard Wilbur: "The Writer"