Podcast: Play in new window | Download
Subscribe: Apple Podcasts | RSS
We talk with Judy Batalion about her book, The Light of Days: The Untold Story of Women Resistance Fighters in Hitler's Ghettos.
Then, another WWII story—this time fiction—told through an unforgettable cast of characters: we talk with Lissa Evans about V for Victory, the sequel to Crooked Heart.
And if you subscribe to our podcast, give us some love on wherever you get your podcasts. It really helps others to find the show.
Judy Battalion
In 1939, more than three million Jews lived in Poland, making up one of the most vibrant Jewish communities in Europe. When WWII ended, 90% of them had been murdered by Hitler's regime.
The Nazi extermination program was implacable — but it did not go unresisted. Young people — and especially young women— who had been active in the Jewish youth movement before the War fought back against the Nazis. They cared for the sick, brought food to the hungry and mounted operations of rescue and refuge. They also carried out military-style campaigns of sabotage and assassination.
They didn't expect to survive—and most didn't. But some did. After the war, they found the world wasn't interested in their stories of resistance—and even many of them just wanted to put it all behind them. Their heroic history went underground like their own resistance during the War.
But now that hidden history has been brought out of the shadows by Judy Battalion's book The Light of Days: The Untold Story of Women Resistance Fighters in Hitler's Ghettos.
The world has taken notice. The book is on numerous bestseller lists, including the New York Times— and Stephen Spielberg has already optioned it for a major motion picture.
Judy Batalion's New York Times Op Ed, The Nazi-Fighting Women of the Jewish Resistance and much more.
Lissa Evans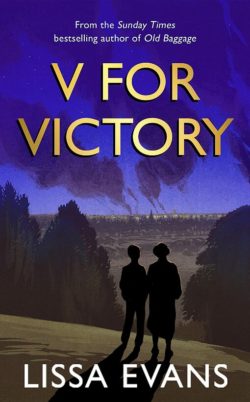 Back in 2015, we spoke with Lissa Evans about her novel Crooked Heart, a black comedy set in wartime London. It told the story of a precocious ten year old orphan, Noel, who is taken in by a small time con artist named Vera when he is evacuated from the London Blitz.
Now, Evans has come out with a sequel, V for Victory (it's actually the third in a trilogy). Noel is almost fifteen now and he and Vera are still together, facing down the Blitz in a large house next to Hampstead Heath, where Vera has taken in lodgers, barely scraping by.
The story of those final days of the War—along with revelations of secrets the two have been hiding for years—is told by Lissa Evans in her signature poignantly comic touch.
Evans is the author of six novels for grownups and three for children.