Podcast: Play in new window | Download
Subscribe: Apple Podcasts | RSS
We talk with Carey Gillam about her page-turning follow-up to Whitewash, The Monsanto Papers: Deadly Secrets, Corporate Corruption, and One Man's Search for Justice. It's about the groundbreaking case of school groundskeeper Lee Johnson—how he sued Monsanto and won.
Then, sea level rise is happening—and it's affecting way more than just coastal communities. That means millions are going to have to move to higher ground. We talk with John Englander about how fast sea level rise is happening and what communities can do about it. His book is Moving to Higher Ground: Rising Sea Level and the Path Forward.
Carey Gillam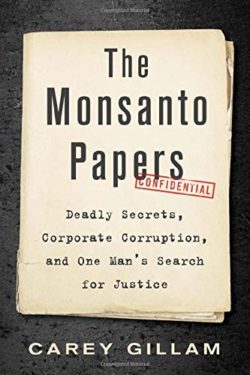 Glyphosate, commonly known as Roundup, is the world's most widely used herbicide. The International Agency for Research on Cancer or IARC says it's a probable human carcinogen.
Other scientific studies have linked it not only to cancer but to kidney and liver damage, endocrine disruption, reproductive and developmental harm, neurological damage, and immune system dysfunction. It doesn't just poison people but the insects that pollinate our food crops and other living beings.
But aggressive public relations by glyphosate's developer, Monsanto and its current purveyor, Bayer, has resulted in the widespread perception that the glyphosate is safe'.
School groundskeeper Lee Johnson thought Roundup was safe, but two tragic accidental spills of the chemical left him with a horribly disfiguring and deadly disease. In a ground-breaking case with global implications, Johnson took Monsanto to court — and won.
We last spoke with journalist Carey Gillam about Whitewash: The Story of a Weed Killer, Cancer, and the Corruption of Science, her exposÁ© of how Monsanto had captured federal agencies and academic scientists to promote Roundup and suppress attempts to regulate it. Her thrilling sequel to that book tells the courtroom drama of Lee Johnson's suit against Monsanto. It's called The Monsanto Papers.
Carey Gillam is an American investigative journalist and author with more than 30 years of experience covering food and agricultural policies and practices, including 17 years as a senior correspondent for Reuters international news service.
Judge reads verdict in Lee Johnson's case
John Englander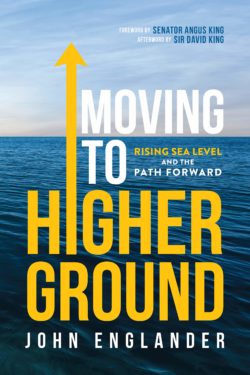 As the globe heats up due to human caused carbon pollution, sea levels around the world are rising at an accelerating pace. New research estimates that 200 million people will live below the sea level line by 2100. An additional 160 million will be affected by higher annual flooding due to rising ocean levels.
A whole lot of people will be facing the choice: adapt somehow or move to higher ground.
How communities can evaluate and face the threat of sea level rise is the topic of John Englander's new book, Moving to Higher Ground: Rising Sea Level and the Path Forward.
John Englander is an oceanographer, multi-book author, and expert speaker on climate change and Sea Level Rise (SLR). His first book, High Tide on Main Street, was a bestseller about rising sea level.