Podcast: Play in new window | Download
Subscribe: Apple Podcasts | RSS
What do the oldest cultures in the world have to teach us about raising happy, well-adjusted children? Michaeleen Doucleff tells us, as she talks about her book, Hunt, Gather, Parent.
Then, a leading social psychologist reveals the family secrets that drove her to study how technology is eroding human connections. Sherry Turkle tells us about her fascinating memoir, The Empathy Diaries.
Writer's Voice — in depth conversation with writers of all genres, on the air since 2004. Rate us on iTunes or whatever podcast app you use!
Michaeleen Doucleff
When Francesca first heard about Michaeleen Doucleff's book Hunt, Gather, Parent, she thought to herself, "just another parenting book."
So she was intrigued but skeptical when she sat down to read about what Doucleff had to say about "what ancient cultures can teach us about the lost art of raising happy, helpful little humans" (the subtitle of her book.)
But she was quickly won over by Doucleff's combination of her personal story (trying to parent her strong-willed young daughter), her research into parenting styles of three indigenous cultures (Maya families in Mexico, Inuit families above the Arctic Circle, and Hadzabe families in Tanzania) and her eminently practical suggestions for parenting.
And her ideas don't just work for young children, but for relationships we have with family members of all ages.
Michaeleen Doucleff is a correspondent for NPR's Science Desk, where she reports on disease outbreaks, cross-cultural parenting, and women and children's health. Hunt, Gather, Parent is a NYT bestseller.
LISTEN TO AN AUDIO EXCERPT FROM HUNT, GATHER, PARENT
Sherry Turkle
MIT social psychologist Sherry Turkle is best known for her
books, Reclaiming Conversation and Alone Together. They both offer penetrating insights into the toll that digital technology has taken on our human connections.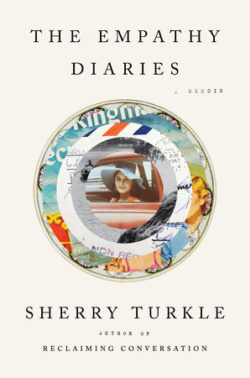 Now, in her intimate memoir of love and work, The Empathy Diaries, Turkle ties together her own's life's story and her pathbreaking research on technology, empathy, and ethics.
Growing up in postwar Brooklyn, she searched for clues to her identity in a house filled with mysteries. Empathy became her strategy of survival as she strove to master the codes that governed her family's secrets.
In The Empathy Diaries, Turkle asks the big question that has motivated her research: how does one change minds? She discovers the clue to unlock that process of change through examining her own story: it's all about creating and preserving connections between people.
Sherry Turkle is Professor of the Social Studies of Science and Technology in the Program in Science, Technology, and Society at MIT, and the founding director of the MIT Initiative on Technology and Self.