Podcast: Play in new window | Download
Subscribe: Apple Podcasts | RSS
We talk with Sue Monk Kidd about her novel, The Book of Longings. It's the story of a brilliant young woman who becomes the wife of Jesus Christ.
Then we re-air our 2016 interview with Monique Morris about her book Pushout: The Criminalization of Black Girls in Schools.
Writer's Voice — in depth conversation with writers of all genres, on the air since 2004. Rate us on iTunes or whatever podcast app you use!
Like us on Facebook at Writers Voice with Francesca Rheannon or find us on twitter @WritersVoice.

Sue Monk Kidd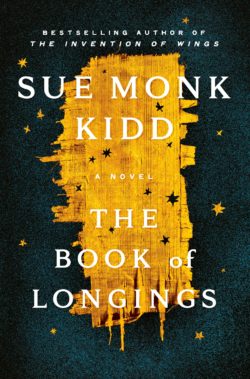 Christianity has always assumed that Jesus Christ was not married. But could that really be true of a man who lived in a time when marriage was a fundamental marker of adulthood?
And if Jesus was married, what would his wife have been like? That question is at the heart of Sue Monk Kidd's wonderful new novel The Book Of Longings.
It's the story of a young woman named Ana, rebellious and ambitious, with a brilliant mind and a daring spirit. At a time when women's longings for a life of their own are brutally suppressed, Ana is a secret writer of narratives about neglected and silenced women.
Then, she meets Jesus of Nazareth and they fall in love. Yet Ana never gives up her dedication to her own voice, just as Jesus follows his passion for a new ethos of love and justice.
Grounded in meticulous research, The Book of Longings is an compelling account of one woman's bold struggle to realize the potential inside her, while living in a time, place and culture devised to silence her.
Sue Monk Kidd is the author of four novels, including The Secret of Bees and four works of nonfiction.
Read an excerpt from The Book of Longings
Web Extra! A Poem About Mary Magdalene
Mary Magdalene
by Meg Fisher
So, I was drawn to him, as were so many.
I stood out from the rest for being woman
but we all wore robes and sandals, so I blended in.
It was the stories he could tell,
the way they lived in him, the way
he tossed them to the crowd like silver fish,
to multitudes or even just to two or three.
I had stories of my own; we all did.
Sometimes when he was tired, he'd listen
to the rest of us, around the fire, or on the road.
I felt the trouble brewing as that band of his increased—First one, then two, two more, another—didn't stop til there were twelve—
and how they left their wives, their parents, friends—
how all our heads were turned.
I could have warned him,
did in fact.
But there's no warning someone
who's so bitten by the truth
and so,
like the others,
I lived in his presence when I did
and in his absence
the rest of the time
caring for my father
mending thatch and
fetching water from the well,
grapes from the vineyard,
bringing our family loaf to the common  oven,
chatting there with friends
who'd tease me: You're preoccupied these days!
Oh, I was occupied all right.
And still I am, and will be.
This rare sap, radical sweetness,
lifts my arms,
fills these my hands.
Monique Morris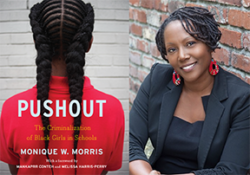 We first aired our interview with Monique Morris in 2016, soon after the murder of Philando Castile at the hands of the police.
Now, as protests against police violence sweep the land, we though this would be a good time to re-air our conversation with Morris about her book Pushout. It's about another aspect of systemic racism: The criminalization of Black girls in schools.