Podcast: Play in new window | Download
Subscribe: Apple Podcasts | RSS
In today's show, we discuss two novels about World War II, told from very differing perspectives.
First, Jennifer Steil tells us about her novel Exile Music. It's the story of a young girl who flees to Bolivia with her family after the Nazis annex Austria in 1938.
Then, a rare depiction of the war from the point of view of an ordinary German family as their lives and society crumble around them: we talk with L. Annette Binder about her novel The Vanishing Sky.
Writer's Voice — in depth conversation with writers of all genres, on the air since 2004. Rate us on iTunes or wherever you get your podcasts!
Like us on Facebook at Writers Voice with Francesca Rheannon or find us on twitter @WritersVoice.
Jennifer Steil
When Nazi Germany annexed Austria in March of 1938, it was the beginning of the end of Austria's Jews.
Vienna had long been home to a flourishing Jewish community, with many illustrious figures active in literature, science and the arts. Among them were many members of the famed Viennese Philharmonic under the direction of Bruno Walter, also Jewish.
When the Nazis marched in, those Jewish musicians lost their jobs. And most of them lost their lives, unless they were able to emigrate somewhere else. The problem was, almost no country would take them. But Bolivia did.
In her novel Exile Music, Jennifer Steil tells the story of a family that flees Vienna for safe harbor in the mountains of Bolivia.
It centers around a young girl, Orly, daughter of two musicians with the Viennese Philharmonic, as she struggles with traumas of loss and war and eventually adapts to her new homeland.
Exile Music is a fascinating look at a little known corner of World War II history, with salient lessons for our current global refugee crisis.
In addition to Exile Music, Jennifer Steil is the author of a memoir, The Woman Who Fell From the Sky, and the novel The Ambassador's Wife.
Hear a sample of Exile Music
Read an excerpt

Bruno Walter conducts the Viennese Philharmonic in 1935
L. Annette Binder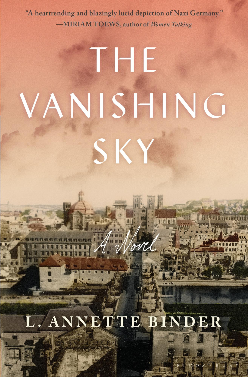 What was it like for ordinary German civilians to go through crushing defeat in the waning months of World War II? It's a perspective American readers seldom get to contemplate.
L. Annette Binder's parents were children during that time, but the experience left the searing mark of trauma on her father's life, a teenager then, as well as profoundly impacting her much younger mother.
Drawing on family recollections and archival research for inspiration, in her novel The Vanishing Sky, Binder has crafted an intimate, harrowing story about a family of German citizens during World War II and the choices we make for country and for family.
In addition to The Vanishing Sky, Annette Binder is the author of an award-winning collection of stories, Rise. The Vanishing Sky is her first novel.
[The top image is of WÁ¼rzburg after it was firebombed in 1945]