Podcast: Play in new window | Download
Subscribe: Apple Podcasts | RSS
We spend most of the hour with master of the legal thriller Scott Turow, talking about his latest novel The Last Trial. We also talk with him about some very real cases going on right now.
Then, we hear from a former Writer's Voice guest, the poet Kathryn Levy, who was involved in a just decided legal case with critical implications for the 2020 election.
Writer's Voice — in depth progressive conversation with writers of all genres. On the air since 2004. Like us on Facebook at Writers Voice with Francesca Rheannon or find us on twitter @WritersVoice. And remember to rate us on iTunes or whatever podcast app you use!
Scott Turow
Scott Turow has a gift for exploring the meticulous details of the law in a way that is utterly spellbinding. And he matches that with a deep examination of the twisty—and twisted—pathways of the human heart and its motivations. That's exemplified in his latest novel, The Last Trial.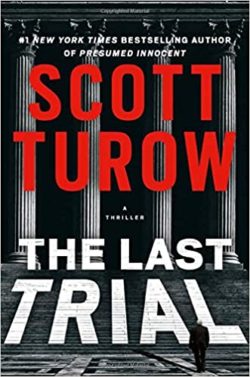 Its protagonist is octogenarian Sandy Stern, defense lawyer extraordinaire, who has decided he'll bring the curtain down on his legal career at the conclusion of what appears to be an unwinnable final case.
It involves a supremely narcissistic defendant, a world famous cancer doctor accused of murder, insider trading and fraud. He's also one of Sandy Stern's doctor and one of his best friends.
We also talk with Turow about his recent post in Vanity Fair concerning the Supreme Court's consideration of whether Trump's tax returns can be released, as well as get his opinion of the move by Attorney General William Barr to drop the case against Michael Flynn.
Scott Turow is the author of ten novels and three works of nonfiction, including Presumed Innocent and The Burden of Proof.
Read an excerpt from The Last Trial
Kathryn Levy
A very important case was decided in New York State in the last week: it mandated that the New York presidential primary will go forward.
That's news, because the state's Board of Election commissioners, appointed by Governor Cuomo, had decided to cancel the primary, claiming they were concerned about health concerns around the coronavirus. This, in spite of the fact, that down ballot primaries were always still in effect and that the state is well capable of allowing the vote by mail.
A lawsuit to reinstate the primary was filed by Andrew Yang and supporters of and delegates for Senator Bernie Sanders. In early May, Judge Anneliese Torres ruled for the plaintiffs, saying the primary must go forward.
The state appealed the decision but this week, the Second Circuit Court Of Appeals upheld Judge Torres' ruling. The primary shall proceed.
But before that final decision, Francesca spoke with plaintiff and previous guest on Writer's Voice poet Kathryn Levy about the case for a news report on WPKN 89.5, serving southern CT and eastern Long Island. We play an excerpt from that interview.
Listen to the full interview on Soundcloud
Next week, we talk with Tyson Yunkaporta about his book SAND TALK: How Indigenous Thinking Can Save the World.