Podcast: Play in new window | Download
Subscribe: Apple Podcasts | RSS
We spend most of the hour talking with Tyson Yunkaporta about his groundbreaking book, Sand Talk : How Indigenous Thinking Can Save the World.
Then we air a clip from my 2018 interview with Paul Greenberg, author of The Omega Principle and Four Fish, about sustainable aquaculture.
Writers Voice— in depth conversation with writers of all genres, on the air since 2004.
Love Writer's Voice? Please rate us on your podcast app. It really helps to get the word out about our show. And don't forget to like us on Facebook at Writers Voice with Francesca Rheannon or find us on twitter @WritersVoice.
Tyson Yunkaporta
It's clear that Western thinking, with it's emphasis on competition, dominion over the natural world and enshrinement of hierarchy isn't working. Indeed, it threatens our very existence. But isn't that "human nature" — that "survival of the fittest?" way of thinking?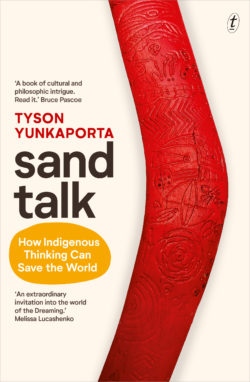 Maybe not. In fact, for the vast majority of human existence, people didn't think that way. They thought of people and the world we inhabit in relational terms — as Native Americans say, "all my relations." When everything is part of your family, you take care of it. Native and aboriginal cultures today have preserved that way of thinking.
Author Tyson Yunkaporta straddles the two world views. He's a member of the Aboriginal Apalech Clan in far north Queensland Australia who carves traditional tools and weapons — and he also works as a senior lecturer in Indigenous Knowledges at Deakin University in Melbourne.
His brilliant new book Sand Talk looks at global systems from an Indigenous perspective. He asks how contemporary life diverges from the pattern of creation. How does this affect us? How can we do things differently? How, in fact, can Indigenous thinking save the world?
[Break Music Credit: Didgeridoo – Yigi Yigi – David Hudson]
Read An Excerpt from SandTalk
Listen To A Guided Meditation From Sand Talk Read By Tyson Yankaporta
Paul Greenberg
In 2018, Francesca interviewed Paul Greenberg, author of The Omega Principle, for home station WPKN 89.5FM's Evening Report.
She spoke with him just before the airing of a PBS Front-line documentary, The Fish On My Plate, inspired by Greenberg's book. The documentary, like the book, looks at sustainable fishing and aquaculture. We play an excerpt from that interview