Podcast: Play in new window | Download
Subscribe: Apple Podcasts | RSS
The 2020 presidential election is looming on the horizon. Many fear the outcome will be hotly disputed. Yet neither the United States electoral system nor the Constitution is likely to help us out of the mess. We talk with constitutional scholar Alan Hirsch about his book A Short History of Presidential Election Crises: (And How to Prevent the Next One).
Then, Bernie Sanders has indicated he's probably done running for president. What's next for the Political Revolution? Micah Uetricht discusses the book he co-authored with Meagan Day, Bigger Than Bernie: How We Go from the Sanders Campaign to Democratic Socialism.
Writer's Voice — in depth conversation with writers of all genres. On the air since 2004. Rate us on iTunes or wherever you get your podcasts. And like us on Facebook at Writers Voice with Francesca Rheannon or find us on twitter @WritersVoice.
Alan Hirsch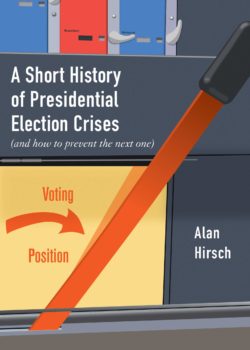 What if, on account of Covid-19, we try to hold the 2020 presidential election entirely online or through the mail—and it turns into a logistical nightmare? (Not that the alternative, in-person voting, is necessarily any safer, for the vote or for our health.)
What if hackers succeed in changing votes from one candidate to another, calling into question the accuracy of the electoral count? And, what happens if our current president doesn't accept election day results if he's not declared the winner? It will cause a crisis the likes of which this country has never seen.
In 2000, we learned that an exceptionally close presidential election can produce chaos, because we have no reliable Constitutional mechanism for resolving disputes. Constitutional scholar Alan Hirsch addresses the problem in his book, A Short History of Presidential Election Crises.
He takes us through a concise history of presidential election crises and proposes some common-sense solutions, including abolishing the Electoral College and the creation of a permanent, non-partisan Presidential Election Review Board to prevent or remedy future crises.
Alan Hirsch is Chair of the Justice and Law Studies Program at Williams College.
And, talking about Constitutional crises—New York State is having one right now. The NY state Constitution mandates that, once a candidate is on the ballot, they must remain there. Yet, the New York Board of Elections recently cancelled the presidential primary.
Andrew Yang & supporters of Bernie Sanders sued in court for the primary to go forward—and won. The State is appealing. Hear Francesca's interview of one of the plaintiffs here.
Micah Uetricht
When Bernie Sanders suspended his presidential campaign, many people asked what's next for the Political Revolution?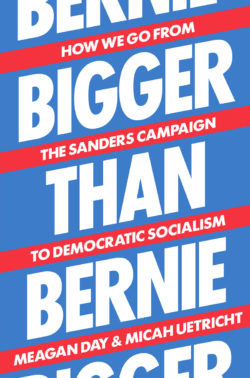 But the goals of the movement behind him were never just about winning the White House for Sanders. They have always been about creating a mass, multicultural working class movement to uplift ordinary Americans and get them involved in the political process — not just in elections, but in building real power on the job and in communities.
That revolution is already underway, as evidenced by the massive growth of the Democratic Socialists of America, the teachers Bernie motivated to lead strikes across red and blue states, and the rising new generation of radicals in Congress inspired by his example.
In Bigger than Bernie, Micah Uetricht and his co-author Meagan Day provide a road map to the movement to remake American politics, from bottom to top. As activists themselves, they analyze the prospects for long-term change and offer strategies for making "political revolution" more than just a campaign slogan.
Micah Uetricht is a labor organizer in Chicago, an assistant editor at Jacobin, and an In These Times contributing editor. He has written for Salon, the Nation and the American Prospect.