Podcast: Play in new window | Download
Subscribe: Apple Podcasts | RSS
We talk with historian David Silverman about his book This Land Is Their Land: The Wampanoag Indians, Plymouth Colony, and the Troubled History of Thanksgiving.
Then, we continue our Thanksgiving week tradition of hearing Native American storyteller and ethnohistorian Marge Bruchac talk about Thanksgiving from the Native point of view — and her re-telling of the Story of Corn.
Please make sure to like us on Facebook at Writers Voice with Francesca Rheannon or find us on twitter at WritersVoice. And if you are listening to our podcast, give us some love on iTunes or whatever podcast app you use.
David Silverman
Thanksgiving is one of America's best loved holidays. What's not to like about testing with friends and family?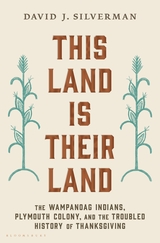 But we would do well to remember that there is a darker side to the holiday, one that moves some modern Native people to hold a Day of Mourning on Thanksgiving. That's because they know well that the holiday celebrates a myth of colonialism and appropriation of the lands they have inhabited for at least 12,000 years.
In 1621, an uneasy alliance existed between the native Wampanoag tribe and the recently arrived English settlers at Plymouth Colony. The first Thanksgiving was a harvest meal the two groups shared, almost by accident, as we'll hear.
David Silverman's new book This Land Is Their Land is a new look at the Plymouth colony's founding events, told for the first time with the Wampanoag people at the heart of the story. The book shows that it's time to rethink how we, as a pluralistic nation, tell the history of this holiday.
David Silverman teaches Native American, Colonial American, and American racial history at George Washington University. In addition to This Land Is Their Land, he's the author of two previous books about native American and colonial history.
Marge Bruchac
Our theme today is the myth and reality of Thanksgiving. My interview with Native American ethno-historian Marge Bruchac–a WV Thanksgiving tradition–adds detail to the story. And she retells a myth told by her own tribe, the Abenaki, about how corn was given to the People.
In addition to being an enthno-historian and Native American storyteller,  Bruchac performs Algonkian music and oral traditions. We play a song by Marge Bruchac from her album, Voices in the Woods, Abenaki Indian Songs and Stories. The song is called "Mothers".