Podcast: Play in new window | Download
Subscribe: Apple Podcasts | RSS
We talk with Richard Louv, author of Last Child In The Woods, about his new book, OUR WILD CALLING: How Connecting with Animals Can Transform Our Lives―and Save Theirs.
Then, we play an excerpt from our 2015 interview with Carl Safina about his book BEYOND WORDS, What Animals Think and Feel.
Like us on Facebook at Writers Voice with Francesca Rheannon or find us on twitter @WritersVoice. And if you're listening to our podcast, give us some love on iTunes or whatever podcast app you use.
Richard Louv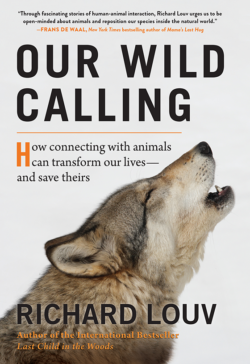 Richard Louv's landmark book Last Child in the Woods inspired an international movement to connect children and nature. Now Louv redefines the future of human-animal coexistence.
Our Wild Calling explores these powerful and mysterious bonds and how they can transform our mental, physical, and spiritual lives, serve as an antidote to the growing epidemic of human loneliness, and help us tap into the empathy required to preserve life on Earth.
Richard Louv is a journalist and author of ten books. In addition to Our Wild Calling and Last Child in the Woods, they include The Nature Principle and Vitamin N: The Essential Guide to a Nature. He is co-founder of the Children & Nature Network.
Carl Safina
Carl Safina is a famed conservation biologist and MacArthur Genius Award recipient. His 2015 book Beyond Words was a milestone in bringing a greater understanding about how animals think and feel to the public mind.
It's an eloquent plea for a major re-set on how humans regard our fellow animals. WV spoke with him in 2015 at his home in Lazy Point, a neighborhood in Amagansett NY that was the subject of a previous book of his.