Monique Morris, SING A RHYTHM, DANCE A BLUES & Ben Ehrenreich on the California Wildfires
Podcast: Play in new window | Download
Subscribe: Apple Podcasts | RSS
We talk with social justice scholar Monique Morris about her new book, Sing a Rhythm, Dance a Blues: Education for the Liberation of Black and Brown Girls.
Then, as fire season in California becomes ever longer and more intense, some are saying the profit-driven utility ownership model just isn't working. We talk with Ben Ehrenreich about his article in the Nation, "California Is Burning—Nationalize PG&E."
Writer's Voice — in depth conversation with writers of all genres. On the air since 2004. Rate us on iTunes!
Monique Morris
When we last talked with Monique Morris, it was about her acclaimed book Pushout, The Criminalization of Black Girls in Schools. Now, in her new book Sing a Rhythm, Dance a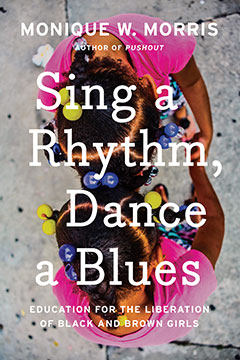 Blues, Morris re-imagines what education might look like if schools placed the thriving of Black and Brown girls at their center.
She brings together research and real life through interviews, case studies, and the testimonies of remarkable people who work successfully with girls of color. The result is an inspiring guide to moving away from punishment, trauma, and discrimination toward safety, justice, and genuine community in our schools.
Monique W. Morris is an award-winning author and social justice scholar with three decades of experience in the areas of education, civil rights, juvenile and social justice. In addition to Sing A Rhythm, Dance A Blues, she is also the author of Pushout and several other books.
Watch the film adaptation of Pushout
Ben Ehrenreich
As California battles catastrophic wildfires, questions are mounting about whether profit-driven utility companies like Pacific Gas and Electric are really up to the task of dealing with them. Last week, Francesca spoke with Ben Ehrenreich of the Nation magazine about his recent article, "California Is Burning—Nationalize PG&E."
Coming up next week on Writers Voice
We talk with legendary travel writer Paul Theroux about his latest book, On The Plain Of Snakes.