Podcast: Play in new window | Download
Subscribe: Apple Podcasts | RSS
We spend the hour with legendary travel writer and novelist Paul Theroux, talking about his latest book, ON THE PLAIN OF SNAKES: A Mexican Journey. We also hear a poem by the renowned Mexican poet Javier Sicilia.
Our conversation with Paul Theroux takes us from the US border to the jungles of Chiapas, as Theroux tells us about the resilience of the Mexican people in the face of violence and bad government, the preservation of ancient traditions by the poorest communities and the inspiring rebellion in the south by the Zapatistas, who have created their own liberated territory.
Listening to our podcast? Give us some love on iTunes or whatever podcast app you use!
Paul Theroux
After a lifetime spent crisscrossing the globe, travel writer and novelist Paul Theroux (author of The Mosquito Coast and The Great Railway Bazaar) explores a country close to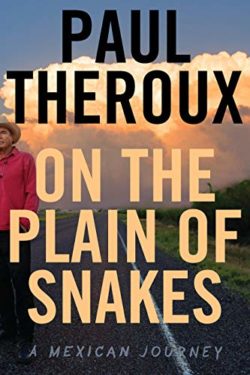 home: Mexico. In his latest book On The Plain Of Snakes: A Mexican Journey, Theroux first
drives the entire length of the US–Mexico border, reporting his encounters there with border-crossers, Border Patrol officers and humanitarian aid workers.
Then, on to Mexico City, where he's mugged by a series of policemen demanding bribes, but also makes deep friendships through a class he teaches.
Theroux then goes deep into the hinterland, on the back roads of Chiapas and Oaxaca, to uncover the rich, layered world behind today's brutal headlines.
He meets with the legendary Subcomandante Marcos, leader of the Zapatista movement dedicated to defending the rights of Mexico's indigenous people. ON THE PLAIN OF SNAKES: A Mexican Journey is replete with adventures, history, discursions on literature about Mexico, stunning descriptions and, running through it all, a deep humanity and respect for the ordinary Mexicans who are his main subject.
Paul Theroux has been called "The world's most perceptive travel writer". He is the author of many highly acclaimed works of fiction and nonfiction, including The Great Railway Bazaar, The Mosquito Coast and Riding the Iron Rooster. We spoke with him last about his book Deep South.
Read an excerpt from On the Plain of Snakes
Poem "What Is Open" by Javier Sicilia