Podcast: Play in new window | Download
Subscribe: Apple Podcasts | RSS
We talk with playwright and author Octavio Solis about growing up the son of Mexican migrants in El Paso Texas. His book of stories based on that history is Retablos: Stories from a Life Lived Along the Border. We also talk about the August 3 mass shooting in El Paso and the impact it has had on Solis' hometown.
Then, we re-air our 2018 interview with singer-songwriter Don Arbor about his song honoring immigrants, "Everyone Comes From Somewhere".
Octavio Solis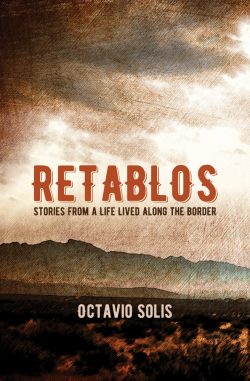 Octavio Solis is one of America's most prominent Latino playwrights. Author of over 20 plays, including Mother Road, currently running at the Oregon Shakespeare festival, Solis recently published his first collection of stories, Retablos (City Lights Press 2019). They are based on his own life growing up the son of Mexican migrants in El Paso, Texas.
Living in a home just a mile from the Rio Grande, Solis was a skinny brown kid on the border, growing up among those who live there, and those passing through on their way North.
The stories use memory as a muse to talk about his complicated relationship with his father, the Chicano movement that informed his view of politics at an early age, his estrangement from his brother, so like a border wall, and how the border is as much myth as reality, replete, as he writes, "with gods and monsters, heroes and fallen angels, troubadours and exiles."
On August 3, 2019, a gunman opened fire in a Walmart in El Paso, killing 22 and wounding 24 others. After our interview about Retablos, Francesca reached out to Octavio Solis to ask him about his thoughts on that shooting in his home town.
Solis is the author of more than 20 plays and served as a cultural consultant on Pixar's movie, Coco.
Don Arbor
To combat the xenophobia and hate on the rise in America, ordinary people need to step up to support those who are being targeted. One person who is using his art to combat the hatred is singer-songwriter Don Arbor, who we interviewed in 2018 about his song welcoming immigrants, "Everyone Comes From Somewhere."
Arbor says it honors his own immigrant roots and celebrates the diversity that made America great in the first place. This seemed a good time to revisit that interview.