Podcast: Play in new window | Download
Subscribe: Apple Podcasts | RSS
We talk with Rachel Louise Snyder about her groundbreaking book, No Visible Bruises: What We Don't Know About Domestic Violence Can Kill Us.
We also play an excerpt from our 2018 interview with historian Roxanne Dunbar Ortiz about her book about the Second Amendment, Loaded.
Rachel Louise Snyder
After almost four decades of decline, murder among romantic partners is now on the rise. In 2017, there were 2,237 such deaths. The vast majority of victims are women.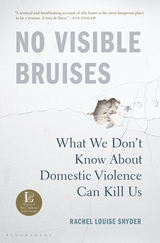 That's what happened to a friend of journalist Rachel Louise Snyder. Snyder was on tour promoting No Visible Bruises, her acclaimed new book about intimate partner violence, when she got the news that her friend and her children had been murdered by her husband, who then turned the gun on himself.
In No Visible Bruises, Snyder gives context to the epidemic of domestic violence. She frames her account of the scale of domestic violence around key stories that explode the common myths: that if things were bad enough, victims would just leave; that shelter is an adequate response; and most insidiously that violence inside the home is a private matter, sealed from the public sphere and disconnected from other forms of violence.
Through the stories of victims, perpetrators, law enforcement, and reform movements from across the country, Snyder explores the real roots of private violence, its far-reaching consequences for society, and what it will take to truly address it.
In addition to No Visible Bruises, Rachel Louise Snyder is the author of Fugitive Denim: A Moving Story of People and Pants in the Borderless World of Global Trade and the novel What We've Lost is Nothing.
Roxanne Dunbar Ortiz
The nation is once again wrestling with grief and outrage over the latest spate of mass shootings, this time in El Paso Texas and Dayton, Ohio.
Once again, the Second Amendment and what it means is being debated. Is the right for any individual to buy assault weapons really what our Founding Fathers were thinking of when they passed the Second Amendment? And is the connection between the gun rights movement and white supremacy more than just a contemporary one—or does it have deep roots in American history?
In 2018, Writers Voice spoke with historian Roxanne Dunbar-Ortiz soon after the Parkland mass shooting in Florida. Her book, Loaded, A Disarming History of the Second Amendment, has some surprising answers to those questions.
She says in order to understand the current obstacles to gun control, we have understand the history of U.S. gun policy, from its role in the "settling of America" and the early formation of the new nation up to the present.
Roxanne Dunbar-Ortiz is also the author of, among others, An Indigenous Peoples' History of the United States, Roots of Resistance, and Blood on the Border.