Podcast: Play in new window | Download
Subscribe: Apple Podcasts | RSS
We talk with Stephen Davis about his book Truthteller: An Investigative Reporter's Journey Through The World Of Truth Prevention, Fake News And Conspiracy Theories.
Then mystery maven Anthony Horowitz tells us about about his newest in his series of mystery metafiction about detective Daniel Hawthorne, The Sentence Is Death (Harper Collins.)
Writer's Voice — in depth conversation with writers of all genres, on the air since 2004. Rate us on iTunes or other podcast app!
Stephen Davis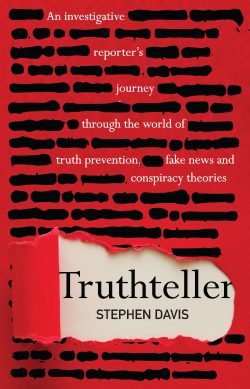 Donald Trump attacks news outlets all the time with accusations of "fake news." But Trump and his servile rightwing media spread fact-free stories and conspiracy theories all the time.
And they aren't the only ones. Corporations and governments, foreign and domestic, do it, too. So do ordinary folks on social media.
How can we discern the truth through the billowing clouds of lies that permeate our media spaces? That's something Stephen Davis sets out to reveal in his book, Truthteller. He exposes the deception, cover-ups, and alternate realities we are barraged with from those who want to keep the truth hidden.
It's something he is intimately familiar with through his experience as an investigative journalist. Among those who have tried to persuade him from reporting his stories: men with Kalashnikovs, government lawyers, corporate PRs in fancy suits, senior police officers, billionaires, and newspaper owners.
Stephen Davis worked for The Sunday Times and The Independent. as well as 60 Minutes, 20/20, Discovery and the BBC. He has taught journalism to thousands of students from all over the world and won multiple awards for his investigative reporting.
Anthony Horowitz
Celebrated crime novelist Anthony Horowitz is nothing if not prolific. He's the bestselling author of, among many others, Magpie Murders, House of Silk, Moriarty and the Alex Rider series as well as the TV crime dramas Foyle's War and Midsomer Murders.
We last talked with him about his James Bond novel, Forever and A Day and, before that, the first in a series of meta-mystery fiction featuring former Scotland Yard detective Daniel Hawthorne, The Word Is Murder.
It's "meta-mystery fiction" because the series also features the author, Anthony Horowitz, as a main character. In the first book and now the second, The Sentence Is Death, Horowitz uses himself as a character to discuss the inner workings of writing detective fiction, as well as to riff on the genre's tropes. It's all done with playful wit and page-turning suspense.
COMING UP NEXT WEEK
We talk with Christian McEwen about her gem of a book, Legal Tender: Women & the Secret Life of Money.