Podcast: Play in new window | Download
Subscribe: Apple Podcasts | RSS
We talk with Christian McEwen about her newest book, Legal Tender: Women and the Secret Life of Money (Bauhan Press 2019). Then, Nation contributor Elie Mystal discusses how Donald Trump and the GOP have reshaped the judiciary for a generation. His cover article for the Nation is "Donald Trump and the Plot to Take Over the Courts."
Christian MacEwen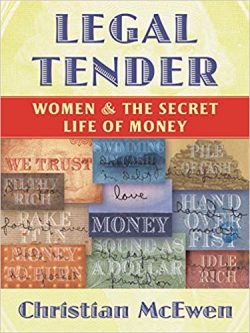 Christian McEwen is the kind of writer who pays attention to things we often don't talk about but which underpin some of the basic drivers of how we live our lives —or should live them.
We last talked with her about her wonderful book, World Enough & Time: On Creativity and Slowing Down. Now, she's come out with a slim volume exploring what money means to women — women who have it, women who don't have it, and women who give it away to those who need it, no matter how rich or poor they are.
Composed of interviews McEwen started doing after the financial collapse of 2008, Legal Tender illuminates the lies, secrets, and silences beneath our discomfort over money. The book focuses on childhood memories, adult challenges, the joys of generosity and abundance, and the inequities of race and gender. It challenges the reader to explore our own relationship to the tender mercies of money and perhaps to transform it.
Christian McEwen is a writer, educator and cultural activist. In addition to Legal Tender and World Enough and Time, she's the author of Sparks from the Anvil: The Smith College Poetry Interviews (some of which we aired on Writers Voice), The Alphabet of the Trees: A Guide to Nature Writing and a book about her uncle and mentor, Music Hiding in the Air, among other publications.
Elie Mystal
While most of Trump''s offenses could be overturned by a new president with the stroke of a pen, Trump''s Court will be his legacy. Nation contributor Elie Mystal reports how the 45th president has unleashed a swarm of conservative judges on the federal circuit courts. In doing so, he's —effectively reshaped the judiciary for a generation.
These judges are anti-environment, anti-choice, anti-LGBTQ, pro-gun, pro-deregulation, hostile to minority voting rights and to claims of racial or gender discrimination. They are largely young, inexperienced, and stridently partisan.
In his cover story for the Nation, "Donald Trump and the Plot to Take Over the Courts," Elie Mystal profiles the 'Seven Injustices, as he calls them,Â' who exemplify the worst of the worst of these lifetime appointments.
Elie Mystal is executive editor of Above the Law and legal editor of WNYCÂ's More Perfect podcast.