Podcast: Play in new window | Download
Subscribe: Apple Podcasts | RSS
We talk with Sy Montgomery, acclaimed author of Soul of An Octopus about her wonderful new book, How to Be a Good Creature: A Memoir in Thirteen Animals.
Then, we talk with journalist and author Earl Swift about his soulful and timely portrait of a 200-year-old crabbing community in the middle of the Chesapeake Bay that's facing extinction from rising sea levels. His book is Chesapeake Requiem, A Year with the Watermen of Vanishing Tangier Island.
Sy Montgomery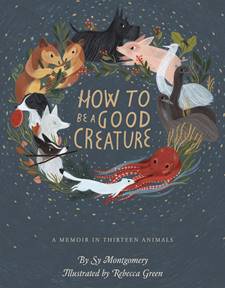 There are a lot of how-to books out there on how to be a better person. But forget about the spiritual tomes and the lifestyle gurus; maybe our greatest teachers are the animals we share our homes and planet with.
That's what science journalist Sy Montgomery has found over a lifetime of friendships with fellow non-human creatures. Like, for example, Octavia, the octopus she so movingly wrote about in Soul of An Octopus, a book for which she won the National Book Award.
Her latest book, How To Be A Good Creature, reflects on the personalities and quirks of thirteen animals and the truths revealed by their lives. They include a pig, a chicken, an ermine, a spider and three emus, among others.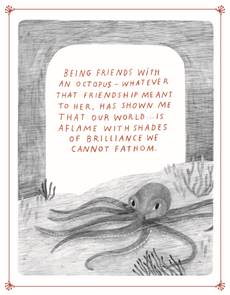 Featuring charming illustrations by Rebecca Green, How To Be A Good Creature is a life-affirming memoir that explores such questions as how we learn to love and develop empathy; how we cope with loss and despair; and how we express gratitude and forgiveness in the world. The book is for readers from age 8 through 88 and older
Sy Montgomery is the author of 20 books for adults and kids, including The Soul of an Octopus and The Good Good Pig, her memoir of life with her pig, Christopher Hogwood.
Read an excerpt from How To Be A Good Creature
Earl Swift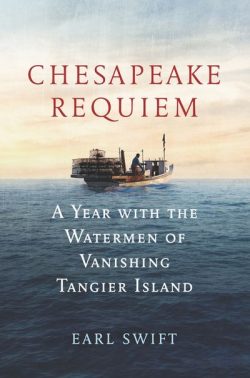 The recently released National Climate Assessment estimates that climate change will slash the US economy by 10% by century's end unless we get serious now about reining it in.
One place that is already experiencing the existential threat of climate change is Tangier Island, Virginia.
It's a unique community on the American landscape. First mapped in 1608 and settled during the American Revolution, the tiny sliver of mud is home to 470 hardy people who live an isolated and challenging existence centered around fishing for the prized Chesapeake Bay blue crab.
But Tangier Island is disappearing: its shoreline retreats by fifteen feet a year due to rising sea levels driven by climate change — and the pace is picking up. Scientists say islanders could be forced to abandon their home within twenty-five years.
Journalist Earl Swift had been reporting on Tangier Island already for over a decade when he decided to live there for a year and report in-depth on what's happening to the community — a community that is very much a canary in the coal mine for coastal communities everywhere. His book Chesapeake Requiem is an intimate look at the island's past, present, and tenuous future.
Earl Swift is the author of seven books and hundreds of major features for newspapers and magazines. He lives and works in Virginia.
Read an excerpt from Chesapeake Requiem