Podcast: Play in new window | Download
Subscribe: Apple Podcasts | RSS
We talk with Elizabeth Rush about her beautifully written book, Rising: Dispatches from the New American Shore.
Then, a judge just ruled that two major California cities can't sue fossil fuel companies to recover the costs of dealing with sea level rise. We'll air some clips about the case from our December interview with Lynn Zinsser of Climate Liability News.
Show transcript available on request for $2.99 USD (email francesca@writersvoice.net)
We're asking you for a favor: please rate us on iTunes or whatever podcast app you use. It helps to spread the word about #WritersVoice. Thanks!
Elizabeth Rush
We live in a time when it is becoming clear that climate change is neither imagined nor distant―and that rising seas are transforming the coastline of the United States in irrevocable ways.
I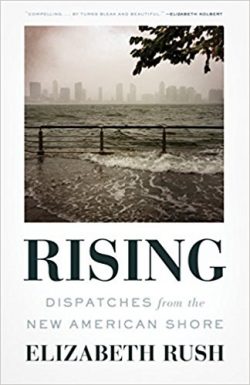 n her book, Rising: Dispatches from the New American Shore, Elizabeth Rush takes readers to some of the places where this change has been most dramatic, from the Gulf Coast to Miami, and from New York City to the Bay Area. For many of the plants, animals, and humans in these places, the options are stark: retreat or perish in place.
Weaving firsthand accounts from those facing this choice with profiles of wildlife biologists and activists, Rising brings us the voices of those usually kept at the margins. The book is a meditation on vulnerable communities, both human and other than human, and on how to let go of the places we love.
Elizabeth Rush teaches creative nonfiction at Brown University in Rhode Island. Her writing has appeared in Harpers, Orion and  The Washington Post, among others.
Rising seas: 'Florida is about to be wiped off the map' by Elizabeth Rush
Resettling the First American 'Climate Refugees'
Lynn Zinsser
On June 25, a federal judge threw out a lawsuit brought by San Francisco and Oakland against fossil fuel companies over the costs of dealing with climate change and sea level rise.
They brought the suits under the nuisance doctrine, as we covered last December, when we spoke with Lynn Zinsser of Climate Liability News. We play clips from that interview, talking about climate change lawsuits and that case in particular.
Book Picks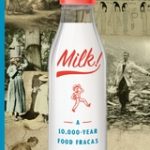 Mark Kurlansky is famous for his terrific books about different food stocks, like his books Cod, Salt and The Big Oyster. He's out with a new one, Milk: A 10,000 Year Food Fracas. It's the story of milk through the ages, told in his classic entertaining and informative style.
Then, at a time when the lessons of past human rights disasters are vital to inform us about present dangers, comes a book of lessons from Holocaust survivor Elie Wiesel's classroom. The title is Witness. It's written and compiled by Ariel Burger, who based it on years worth of journal entries, classroom notes and interviews with Wiesel's students from all over the world.
And finally, The Third Bank of the River: Power and Survival in the Twenty-First-Century Amazon is a sweeping look at the war over the Amazon by Chris Feliciano Arnold. It traces the history of the Amazon from the first Spanish Conquistadores to the drones now searching out mineral riches to exploit — and the violence and chaos that threaten its communities, both indigenous and imported.
Coming Up Next Week…

We talk with Carl Hoffman about his fascinating book The Last Wild Men of Borneo: A True Story of Death and Treasure. And Martin Puchner tells us about his wonderful book The Written World: The Power of Stories to Shape People, History, Civilization.