Podcast: Play in new window | Download
Subscribe: Apple Podcasts | RSS
On this July 4th, we're re-playing two interviews about the foundational texts of our Republic. Danielle Allen talks about the foundational ideas of our American Republic in her book Our Declaration, A Reading Of The Declaration of Independence In Defense of Equality (W.W.Norton, 2014).
Then we air our 2008 interview with Anthony Lewis about Freedom For The Thought That We Hate: A Biography of the First Amendment.
If you love WV, please be sure to rate us on iTunes or your podcast app. It really makes a difference!
Danielle Allen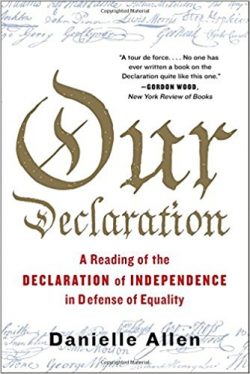 America, we've been told, was founded on the principle of liberty — a notion many like to claim as justification for doing whatever they want without restraint of law or regulation. "Don't tread on me!" The libertarians cry, as they oppose business regulations, push to carry guns openly, or claim their right to discriminate against fellow citizens.
But in her close reading of the Declaration of Independence in Our Declaration, political theorist Danielle Allen says the core value of the founding document of our nation is equality — and it is the value from which liberty and justice derive. Her wonderful book examines what equality meant for the Founders of our nation — and what it means for us.
The Founders had many contradictions, not least of which was the fact that some of them espoused equality despite being slave-owners. Allen doesn't shrink from these contradictions, but she shows that the Founders transcended them by doing something we seem to have forgotten how to do. They brought together a diversity of views with a common purpose: to forge a community dedicated to the rights of all humans to seek happiness. Not private happiness exactly, but happiness as a political right.
Danielle Allen is a professor at Princeton's Institute of Advanced Study and the recipient of a MacArthur "Genius" grant. She is widely known for her work on justice and citizenship in both ancient Athens and modern America and the author of several books.
Anthony Lewis
When we first spoke with journalist and New York Times columnist Anthony Lewis in 2008 about his "biography of the first amendment,"Â Freedom for the Thought That We Hate, George Bush was still president. Concern over the erosion of free speech was one of the reasons Lewis wrote his book.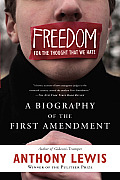 When constitutional lawyer Barack Obama was elected, many thought the erosion would end. But Obama's justice department prosecuted more whistleblowers than all other administrations put together, calling into question Obama's commitment to protect the First Amendment.
With President Trump, the erosion has only accelerated, with his constant disparagement of the press (the "enemy of the people"), his perennial threats to sue critics, and his practice of blocking critics from viewing his Twitter account. That last was ruled as a violation of the 1st amendment by a federal judge. We are on a slippery slope, so this July 4th, we thought it would be good to play again our 2008 conversation about the 1st amendment with Anthony Lewis.
Anthony Lewis died in 2013, after a long, Pulitzer Prize-winning career exploring civil liberties, the Supreme Court, and other legal issues.