Podcast: Play in new window | Download
Subscribe: Apple Podcasts | RSS
We spend with hour with Martin Puchner talking about his fascinating look at the story of world literature. It's called The Written World: The Power of Stories to Shape People, History, Civilization. Published by Penguin Random House, the paperback version is coming out July 24.
Martin Puchner
More than four thousand years ago, the first story was written down. The Epic of Gilgamesh was written on stone tablets, luckily, as you'll hear when Martin Puchner tells us the story of how the epic was discovered.
It's just one of the myriad fascinating revelations in his book, The Written World, a groundbreaking journey through time and around the globe to reveal the powerful role stories and literature have played in creating the world we have today.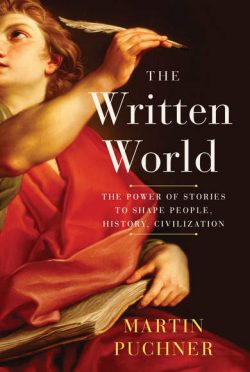 Puchner explores sixteen foundational texts selected from more than four thousand years of world literature. He reveals how writing has inspired the rise and fall of empires and nations, the spark of philosophical and political ideas, and the birth of religious beliefs.
The book ranges from Homer's Odyssey (the oldest written fragment of which was just discovered) to the Hebrew Bible and the teachings of Buddha, Confucius and Jesus;  The Tale of Genji, the first great novel in world literature, written by a woman; Scheherazade and the One Thousand and One Nights, and many more. The Written World also chronicles the inventions—like writing, the printing press, even the book itself—that have shaped religion, politics, commerce, people, and history.
Martin Puchner is the Byron and Anita Wien Professor of English and Comparative Literature at Harvard University. He has authored prize-winning books ranging from philosophy to the arts, including his bestselling six-volume Norton Anthology of World Literature.