Podcast: Play in new window | Download
Subscribe: Apple Podcasts | RSS
We talk with John Duberstein about his late wife's powerful and lyrical memoir, The Bright Hour: A Memoir of Living and Dying. Nina Riggs died just shortly before the book was published from metastatic breast cancer, leaving her husband and two young children behind.
Then we play a clip from our interview in 2015 with Joseph Luzzi about his memoir, In A Dark Wood. After he lost his wife to a car accident, he was helped to heal from his grief by his study of Dante's Divine Comedy.
John Duberstein on Nina Riggs' The Bright Hour
In 2015, at the age of 38, Nina Riggs, was diagnosed with breast cancer. It was aggressive and later that year Nina and her husband John Duberstein learned it had spread to her bones. Riggs, a poet, began a memoir, The Bright Hour, that was published just a month after she died from the disease.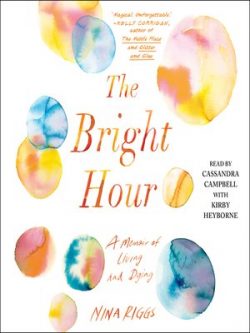 The great-great-great-granddaughter of Ralph Waldo Emerson, Nina Riggs found inspiration in the philosophical works of her illustrious ancestor, as well as in the writings of Michel de Montaigne. Both men counseled facing life as it comes and finding beauty in living no matter what the circumstances. The title "The Bright Hour" comes from a quote by Ralph Waldo Emerson.
Riggs also derived inspiration from her mother, who was battling her own deadly cancer when her daughter was diagnosed. She died just a few months before Riggs, but not before bequeathing her daughter an example of courage, humor in the face of the unbearable and an unquenchable joie de vivre.
Nina Riggs received her MFA in poetry in 2004 and published a book of poems, Lucky, Lucky, in 2009. She wrote about life with metastatic breast cancer on her blog, Suspicious Country; her work also appeared in The Washington Post and The New York Times.
Read an excerpt from The Bright Hour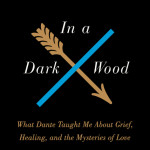 Joseph Luzzi
When John Duberstein lost his wife, he had had time to prepare as she passed through the stages of her mortal illness. When Dante scholar Joseph Luzzi lost his wife, it happened in an instant. We play an excerpt from my 2015 interview with him about his memoir, In A Dark Wood.
Listen to the Entire Interview
Next week on WV:Â  we talk with Carol Anderson about her book, White Rage: The Unspoken Truth of Our Racial Divide. It won the National Book Critics Circle Award.