Podcast: Play in new window | Download
Subscribe: Apple Podcasts | RSS
One of our favorite poets passed away on October 14, 2017. The great American poet Richard Wilbur was 96 years old. We remember him with a re-broadcast of our 2009 conversation with him at his home in Cummington, Massachusetts.
Author Christian McEwen and I spoke with Wilbur about his life, poetry and translations. He also read some of his poems to us in his beautifully resonant voice.
But first, we hear a clip from our 2007 interview with Jeanne Braham, author of The Light Within the Light: Portraits of Donald Hall, Richard Wilbur, Maxine Kumin, and Stanley Kunitz. Braham gives us her thoughts about the poet.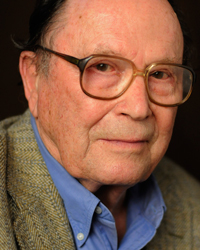 When former U.S. Poet Laureate Richard Wilbur died on October 14, he left behind a legacy as one of America's greatest poets.
Wilbur earned the Pulitzer Prize for Poetry twice, once in 1957 and then again in 1989. That gives you an idea of the long span of his life as a poet. (He published his first poem at the age of 8.) He was a long time contributor of poetry to The New Yorker magazine.
Wilbur's poetry is honed to a deceptive simplicity. As one reviewer wrote, "All of them are easy to read, while being suffused with an astonishing verbal music and a compacted thoughtfulness that invite sustained reflection."
Wilbur's work celebrates the world and the individuals within it. The poet Randall Jarrell said that he was ever reminded of Petronius phrase "studied felicity" whenever he read a book of Wilbur's.
On a beautiful summer's day, Host Francesca Rheannon and guest host Christian McEwen paid a visit to the poet at his hilltop home in Cummington, Massachusetts.
Read Love Calls Us to the Things of This World