Podcast: Play in new window | Download
Subscribe: Apple Podcasts | RSS
We talk with Peter Moskowitz about his book, How to Kill a City: Gentrification, Inequality, and the Fight for the Neighborhood. Then we talk with Steve Stollman about his pop-up exhibit on East Houston Street in New York, The Mulberry Street Gang.
Peter Moskowitz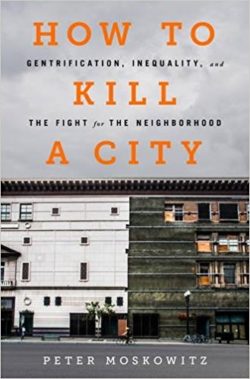 What happens to a city when it turns into a place where only the rich can live? When mom and pop stores are replaced by upscale chains, Starbucks is on every corner and diverse neighborhoods become white only enclaves of CEOs and hedge fund managers (or their wannabes)? 
It's called gentrification — and it's supposed to be the great force revitalizing American cities, like New York, New Orleans, San Francisco and even Detroit.
But journalist Peter Moskowitz says gentrification, far from revitalizing cities, actually kills them. It's like a ladder that pushes everyone down a rung until only the rich are left — but all the reasons why the rich want to live in a city in the first place have gone away: interesting neighborhoods, ethnic diversity, great affordable eateries and artists.
We tend to think that gentrification is a natural process, so whether we like it or not, we have to accept it. But Moskowitz says it's anything but natural, driven by urban policy favoring the real estate industry and abetted by plunging taxes on the wealthy. Gentrification, Moskowitz says, is "trickle down economics in urban form."
His book How to Kill a City is a brilliant examination of how gentrification is destroying neighborhoods and contributing to inequality. It looks at the phenomenon through the lens of four major US cities: New York, New Orleans, San Francisco and Detroit.
Peter Moskowitz is a journalist and writer based in Philadelphia. His work has appeared in The New York Times, The Guardian, Vice and New York Magazine  among other publications. How To Kill A City is out from Nation Books.
Read an excerpt from How To Kill A City
Steve Stollman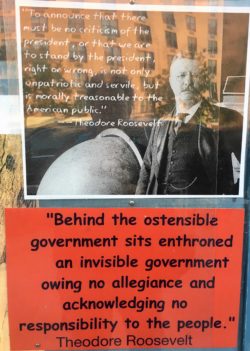 One of the first New York City neighborhoods to gentrify was Soho. As listeners heard in our first segment, gentrification got started there when the city government pushed industry out and allowed artists in.
But as real estate values rose, most of the artists left, to be replaced by upscale national chain stores like Nike and Prada.
The neighborhood is still churning, but on rare occasions that churn opens up a small space for something remarkable to happen — like the pop-up exhibit I saw being installed while walking on Houston Street, between Mulberry and Mott.
The lot where the exhibit is located is up for sale, but for the next four months it will play host to a collection of remarkable posters illustrating the history of what it calls The Mulberry Street Gang. No, not MS-13 but real visionaries and reformers, some of them household names, like Teddy Roosevelt, Mark Twain and Nikola Tesla along with two of their lesser-known but no less history-making buddies, Joseph Keppler and Jacob Riis.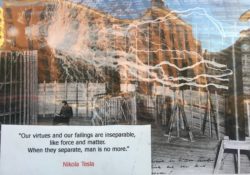 In fact, we have a debt to pay to Tesla — he invented the radio right across from the exhibit.
The Mulberry Street Gang pop-up is the brainchild of Steven Stollman. He's the founder of the activist bicycle group Critical Mass and the former owner of the site at 49 East Houston Street. 
He hopes to shine a light on the little known history that happened here at the the turn of the 20th century. Francesca sat down with Steven Stollman to find out more about it.